My children gave me a chance to see the exhibition "Making  Africa" more deeply. It sounds like a joke, but they are teaching me to look at art. You can read about that part in yesterday's post. While walking through the contemporary design exhibition "Making Africa," it became clear that if I was going to look at the art, then my children had to look at it too. In order to get my children to look at it, we sat down. It worked! We sat in front of 4 artworks and had long conversations. "Making Africa" is currently up at the Albuquerque Museum and will be in Austin, Texas soon. It has 135 objects in it, and you might choose to look at a different four or five. Here are the ones we stopped for in the order that we saw them.
1- Cyrus Kabiru's C-Stunners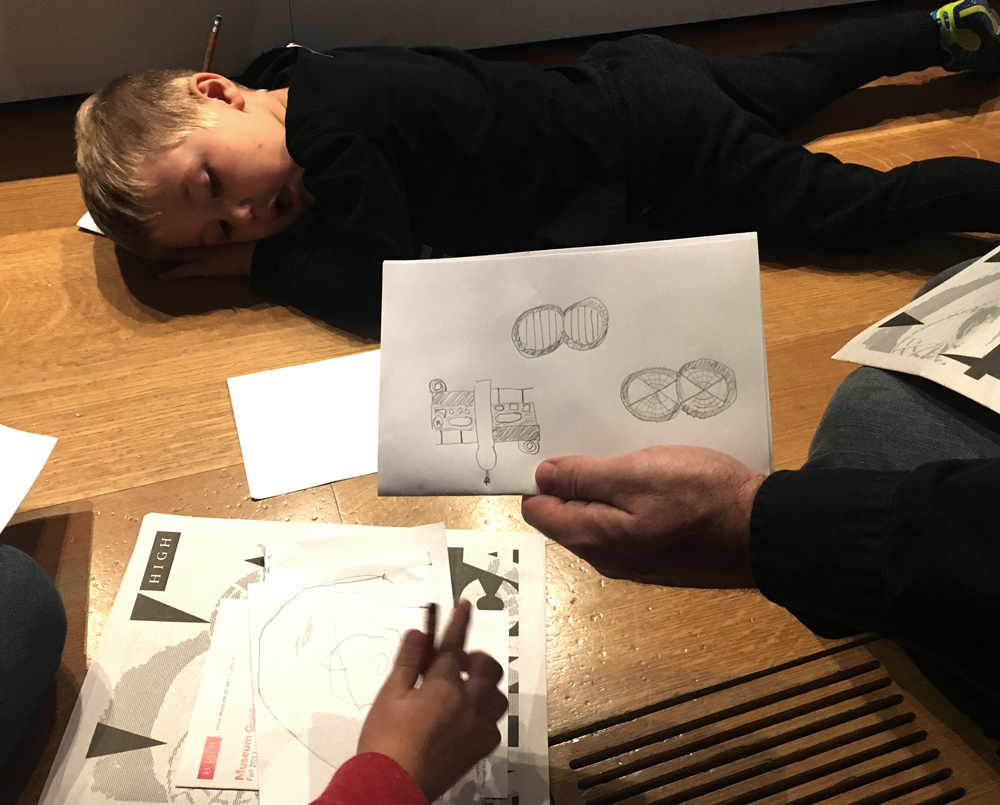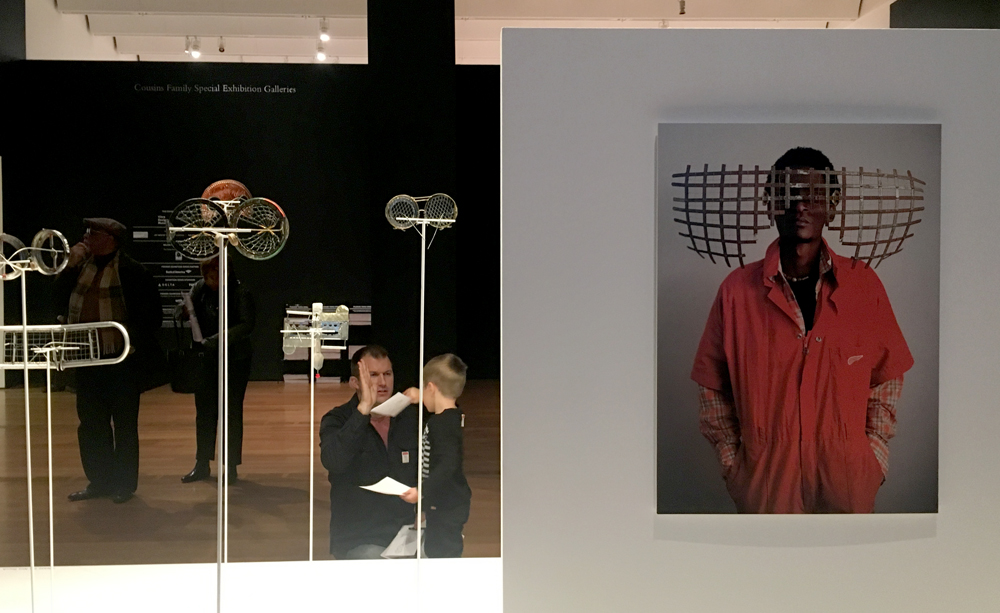 Cyrus Kabiru's "C-Stunners" are the first artwork in the exhibition. We sat down in front of a pedestal filled with a dozen or so spectacles. They are made from found objects and recycled materials that he collects in Nairobi. If you are not familiar with his artwork, then it takes a minute to comprehend that these glasses are meant to be worn. Trying to sketch like their dad, the boys drew their favorites. It was a chance to imagine wearing these glasses and leaving behind our current troubles for some other futuristic mission. As Kabiru mentions in the video above, it's hard to wear these glasses on the street and be stressed.
2- Ponte City by Mikhael Subotzky and Patrick Waterhouse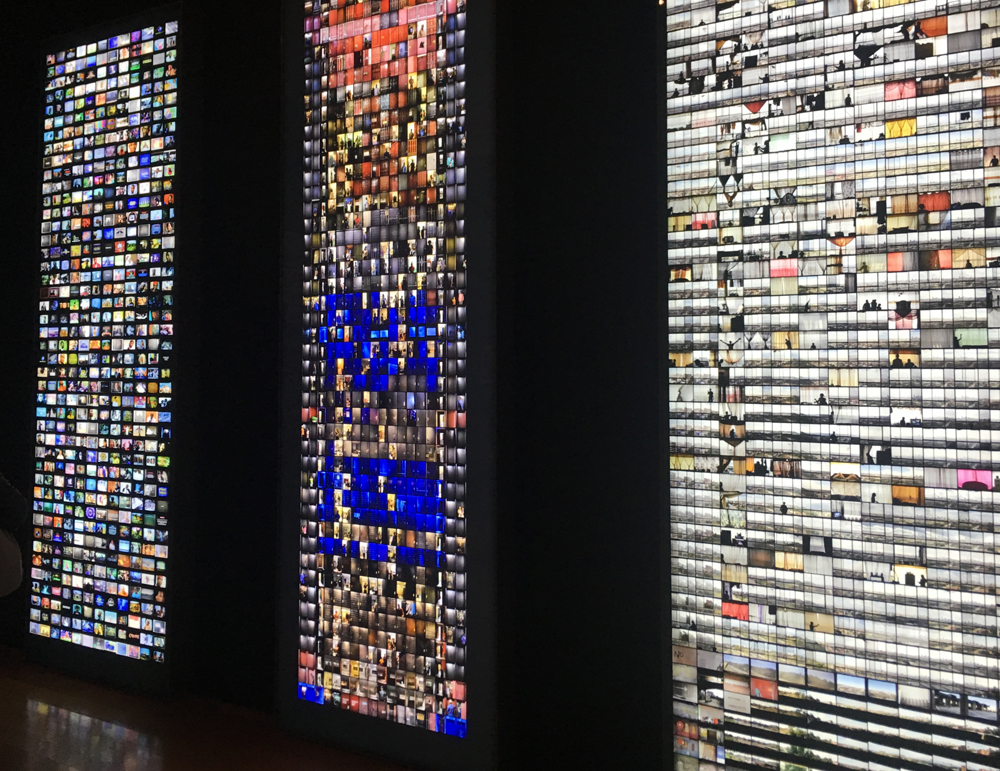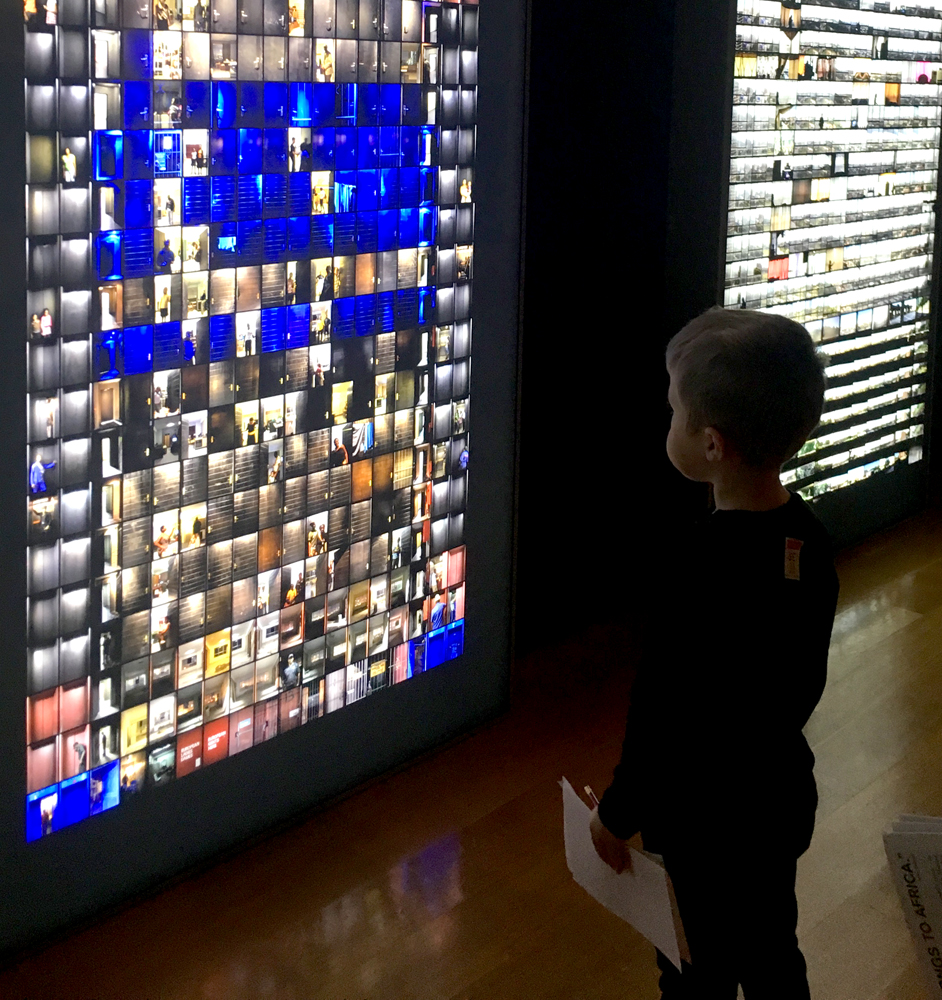 Turning the corner in the exhibition, we faced three vertical light boxes glowing like stained glass windows. The artwork is a collection of photographs documenting every door, window, and tv in one apartment building. Ponte City is a 54 story apartment building in Johannesburg, South Africa that has experienced more than a few shifts in demographics. German writer Norman Ohler says of the building, "Ponte sums up all the hope, all the wrong ideas of modernism, all the decay, all the craziness of the city. It is a symbolic building, a sort of white whale, it is concrete fear, the tower of Babel, and yet it is strangely beautiful". (source)It was built in 1975 for the rich and stylish, but after apartheid it changed. In 2007, developers bought it hoping for a kind of change that didn't happen. Now there are people living in a building with a four story trash pile in the center of it. You just have to read about this complicated place or watch the mini-doc above.  At the art museum, we sat in awe of the grid and repetition. We start by talking about parts that are the same and different. And that's a good starting point for thinking the people impacted by Ponte City too. I'm sticking with the stained glass reference because this piece is about humanity and religious windows should have to think about the problems and the beauty at Ponte.
3- Monrovia Animated by Francois Beaurain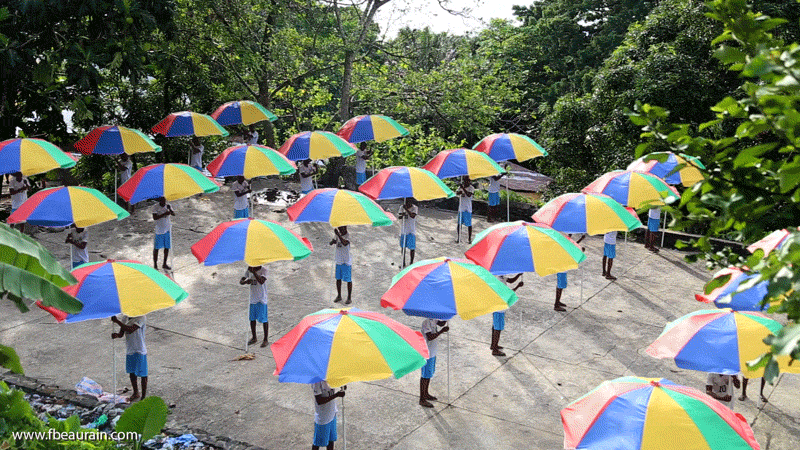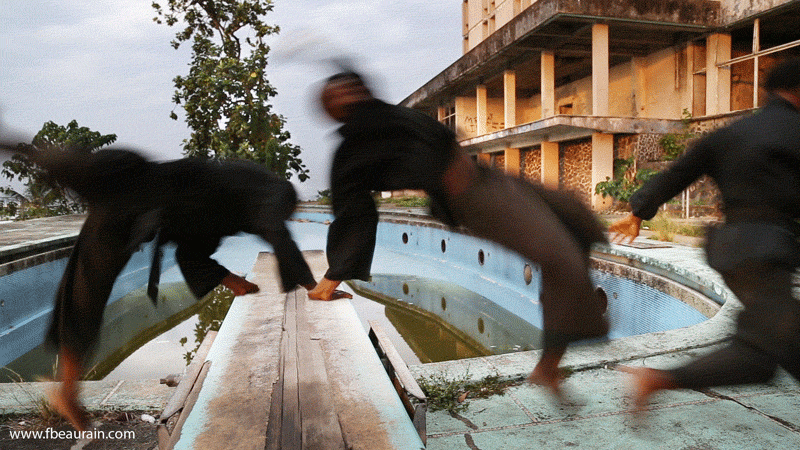 As we were making our way through this large exhibition, I told my son excitedly, "I think I saw a ninja in that artwork! Let's go watch." He probably thought I was lying to get him to sit down with me and watch the animation. My fingers were crossed, hoping that I saw it correctly. We watched "Monrovia Animated" a couple of times, and luckily there are two karate scenes! Created by a French artist who visited Liberia in 2014, the series of animated gifs capture every day life in Monrovia. Because it's not a place with the best reputation, Beaurain used images of daily life and normal people. He states, "There's a big discrepancy between what is really the country and its image internationally." (source) You can see more of the gifs on his website.
4- Piano Chair by Robin Rhode
Robin Rhode uses the street as a canvas for his animations. They are often humorous or absurd, and they are always layered with social critique. When I first paid attention to Rhode's work in 2005, the animations were steeped in who he was as a mixed race man in South Africa. I was drawn to how he combined intense reflections with light-hearted subjects like playing pool or riding a bike. "Piano Chair" is an animated drawing made in South Africa in 2011. It's an angry story told through the violent killing of a piano. The mark making and performance are enthralling.  Sitting with my children, I simply asked, "What do you see?" We talked about materials, actions, cause and effects, etc. Then I asked how it made them feel. The piano, the chair, the streetscape, and the artist feel the injustice. As my children grow up, I wonder what they will make when they feel the injustice.