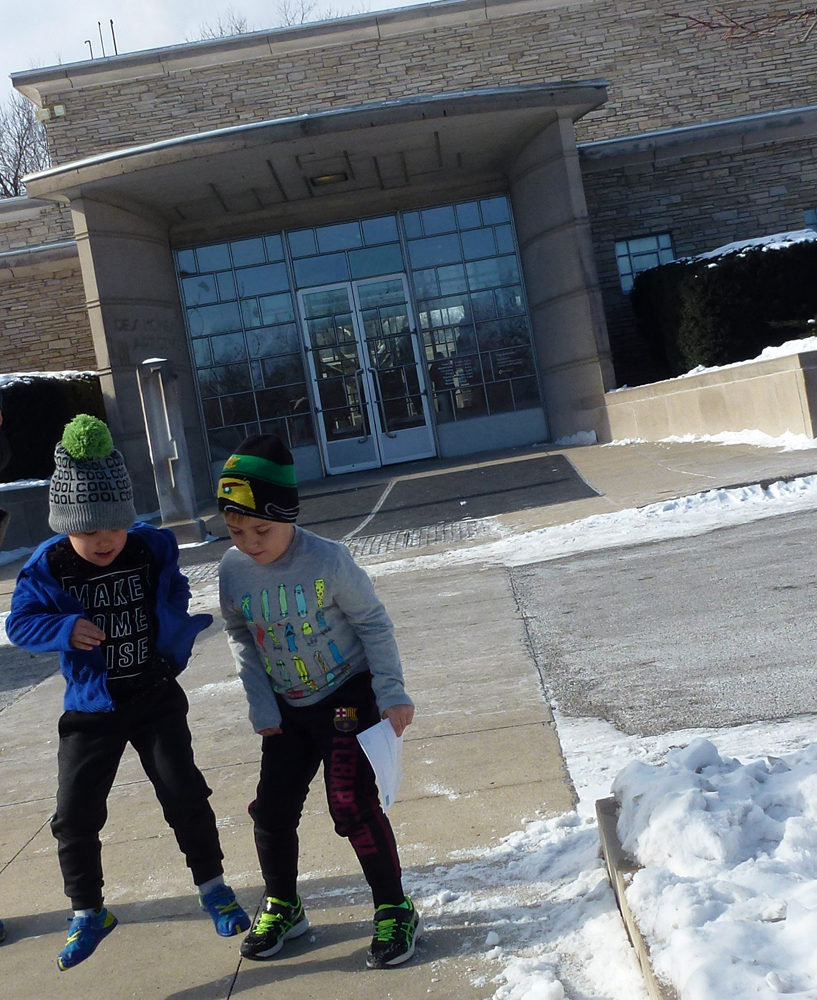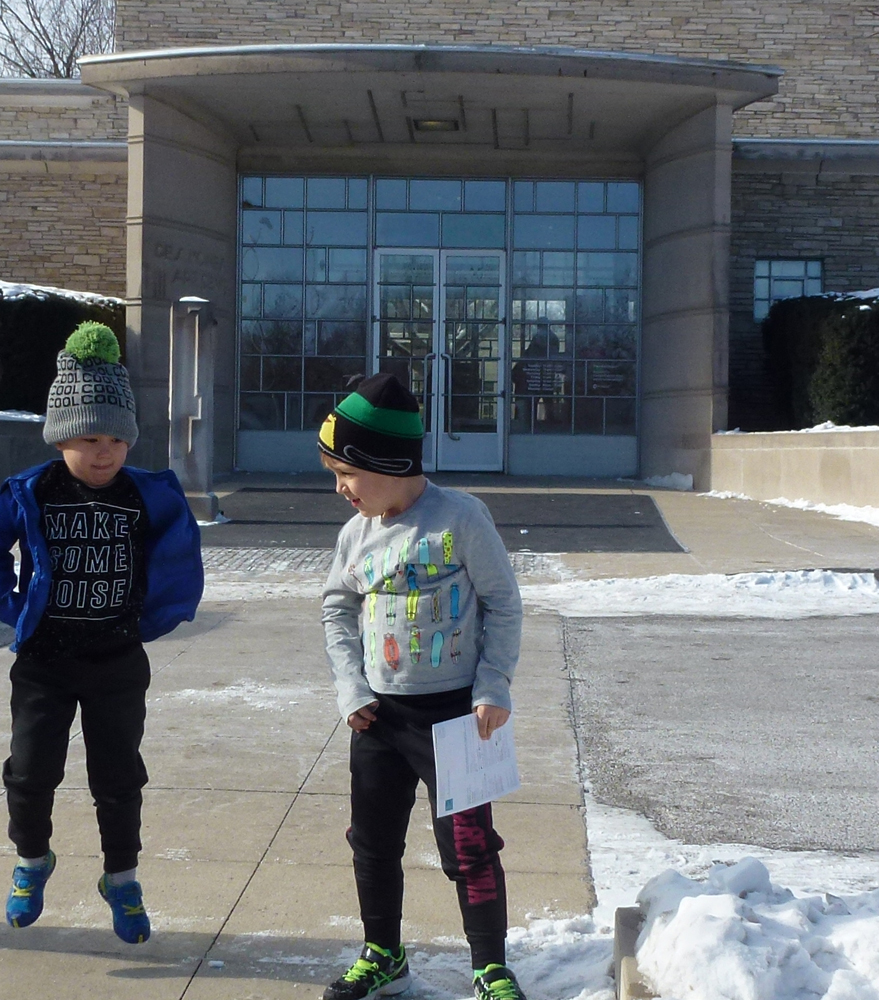 Our travel plan included going to Iowa in the winter and sharing a hotel room with three children under the age of 6. Plus, our main activity was going to an art museum. It doesn't seem like it would be a remarkable vacation, but we would all vote to do it again! We laughed, had real conversations, tried something new, and made memories. As I described in my earlier review, we also had the chance to overcome fears, set goals, and escape to another world. I booked the trip, and even I was surprised that a trip to Iowa in the winter could be all that.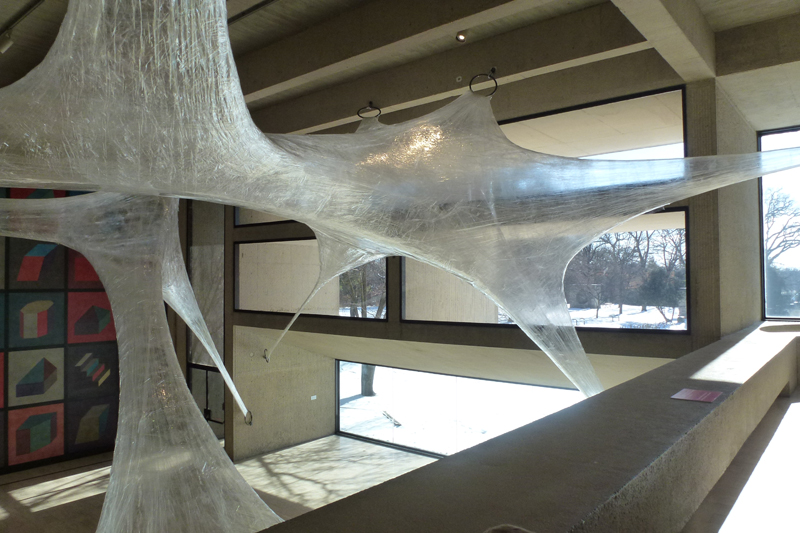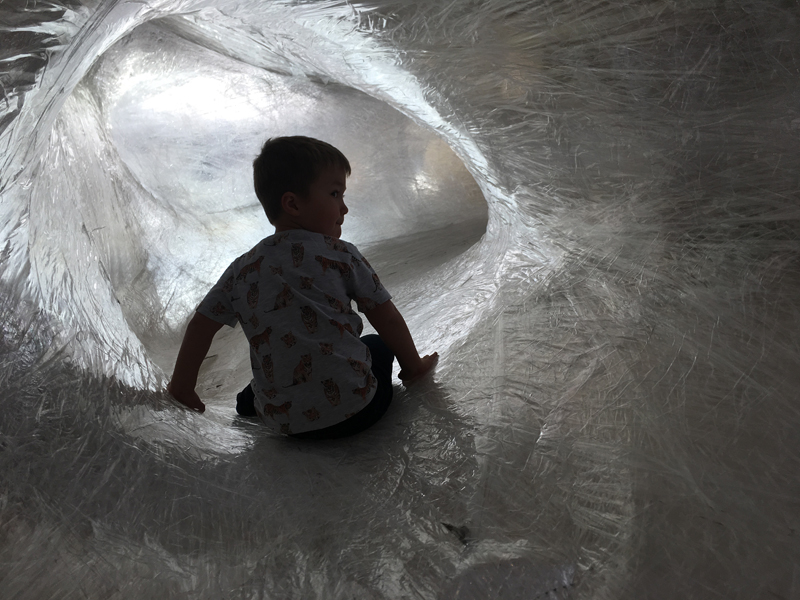 I've seen photographs of Numen/For Use's inspiring tape tunnels suspended in the air all over the world.  "Tape Des Moines" at the Des Moines Art Center is the first one they created for a site in the USA. We traveled to Des Moines for the chance to experience this artwork, an environmental installation that we had never seen before in a place we had never been. Below is an overview of what we saw, how we made it work with children, and why we want to do it again.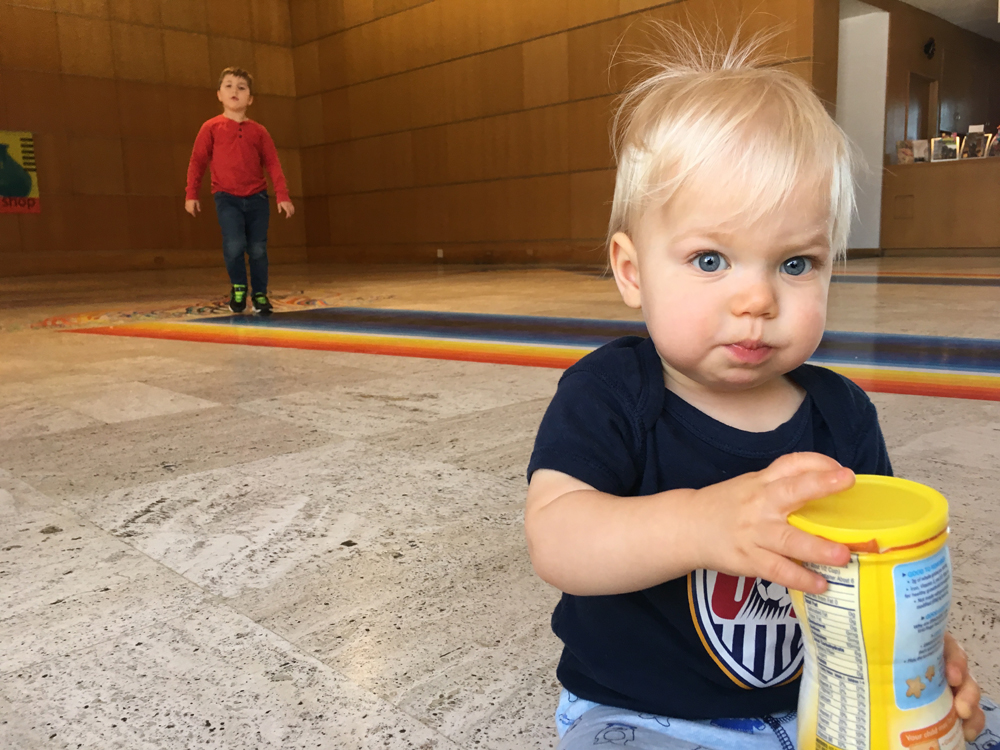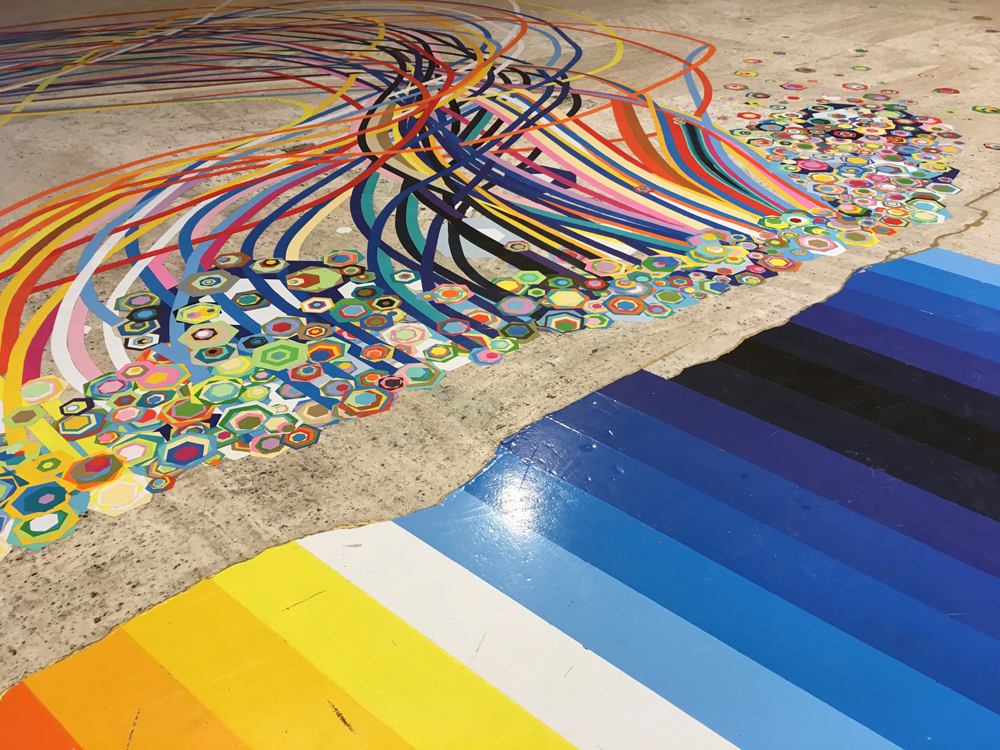 Drawing in Space *thru January 21, 2018
Currently on view is the exhibition "Drawing in Space" that includes four site-specific art installations made with tape. The Des Moines Art Center is designed by three different and influential architects: Eliel Saarinen, I.M. Pei, and Richard Meier. The installations occupy different wings of the building, evoking unique aspects of space.  In the original building, Dave Eppley's joyful marks color the floor of the foyer and Monika Gryzmala's strong black lines stretch across the galleries. Cascading down the wall of one of Richard Meier's trademark atriums is an impressively technical mylar drawing by Heesep Yoon. And the artwork that I've written about in previous posts, "Tape Des Moines," transforms the geometry of the space by I.M. Pei.
Throughout the galleries are video screens playing interviews with the artists about the new artwork they created. Instead of watching them at the museum, we streamed them from the museum's youtube channel before breakfast. The concise videos show the artists constructing the artwork and use language many audiences can understand. Finally, after following directions to touch or not touch the tape installations, my children were excited to receive a free scotch tape dispenser from the front desk staff!  These two add-ons to the exhibition helped me show my children how to access the artwork and enable them to process the experience.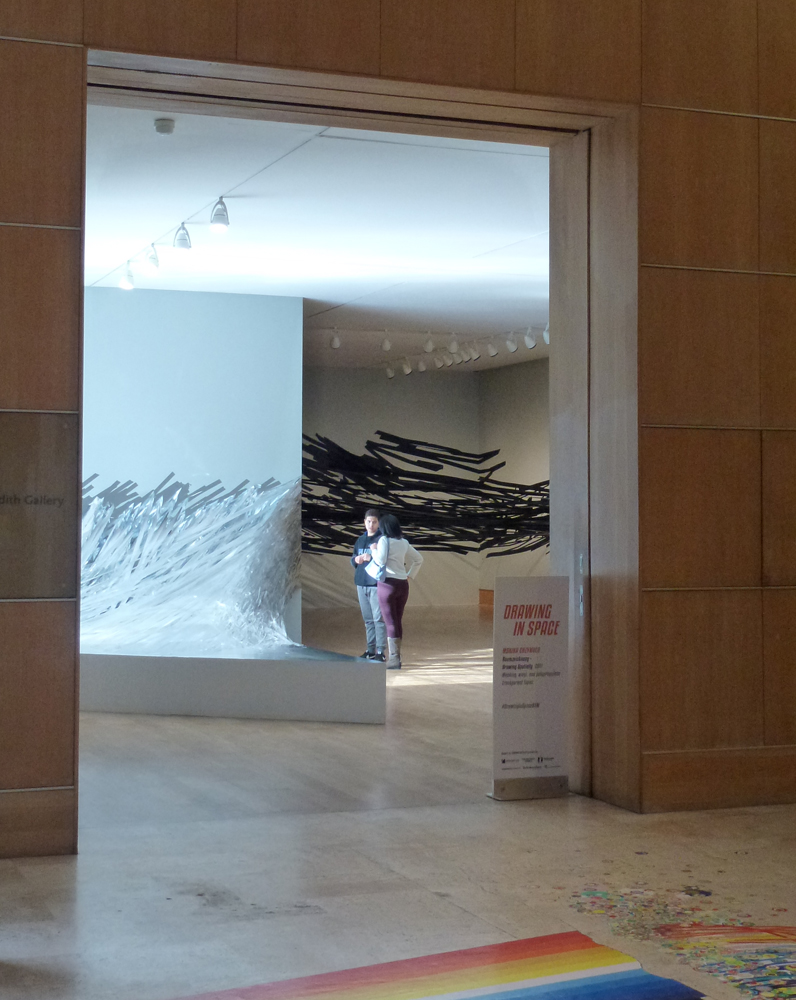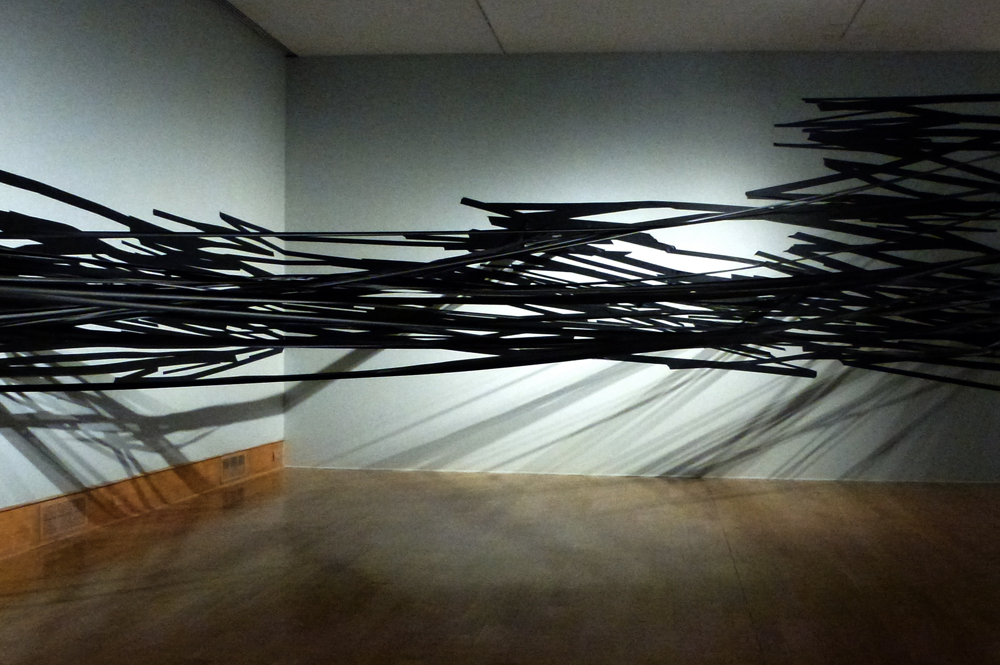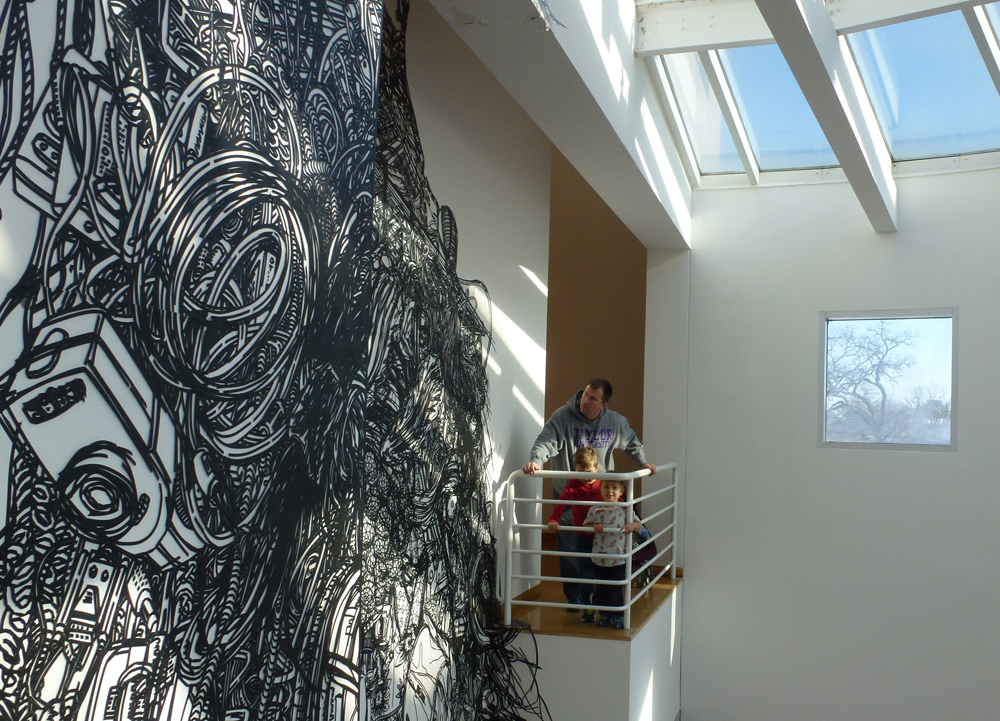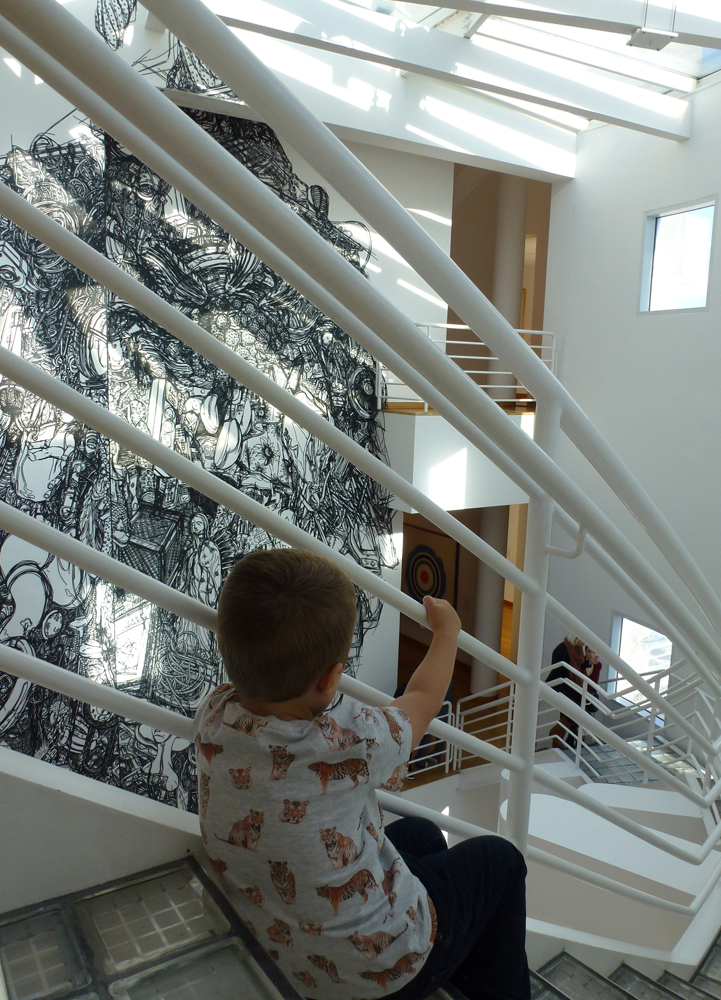 Des Moines Art Center with Children
Built next to an old growth forest in the middle of the city, the Des Moines Art Center's location and building are impressive. Visitors with children need to know where let them play freely and where to get a snack. There is a courtyard close to the main entrance that is a great place for a snack in the summer. Since it was freezing, we took a break by enjoying a lollipop in the foyer. They do not have a children's art studio or play area, but check their calendar for frequent youth programming. When you need to stretch your legs, let your children race to the Andy Goldsworthy and back. The park and sculptures outside look like a wonderful place to roam in warmer temps. When the snow melts, I would love to see Mary Miss's land artwork (or lake artwork).
My museum experience is usually strongly influenced by the gallery attendants/guards. The atmosphere can be very different from one museum to the next, and it can tell a lot about the institution's values and management. I was especially impressed by how the gallery attendants at the Des Moines Art Center smiled and spoke to my children.
Since it is convenient and free to get in and out of the museum, we visited four different times in about 48 hours. Free museums and free parking means we can focus on having a good experience rather than seeing all the art in every room. We might find a handful of artworks to act out or draw, then go eat pizza. Or just go sit and talk about the Joan Miro painting before playing hide and seek in the park. I will emphasize that the breaks for pizza or cheese dip and coffee or beer are key. Here are a few convenient restaurants that we recommend on the way to or way out of the museum.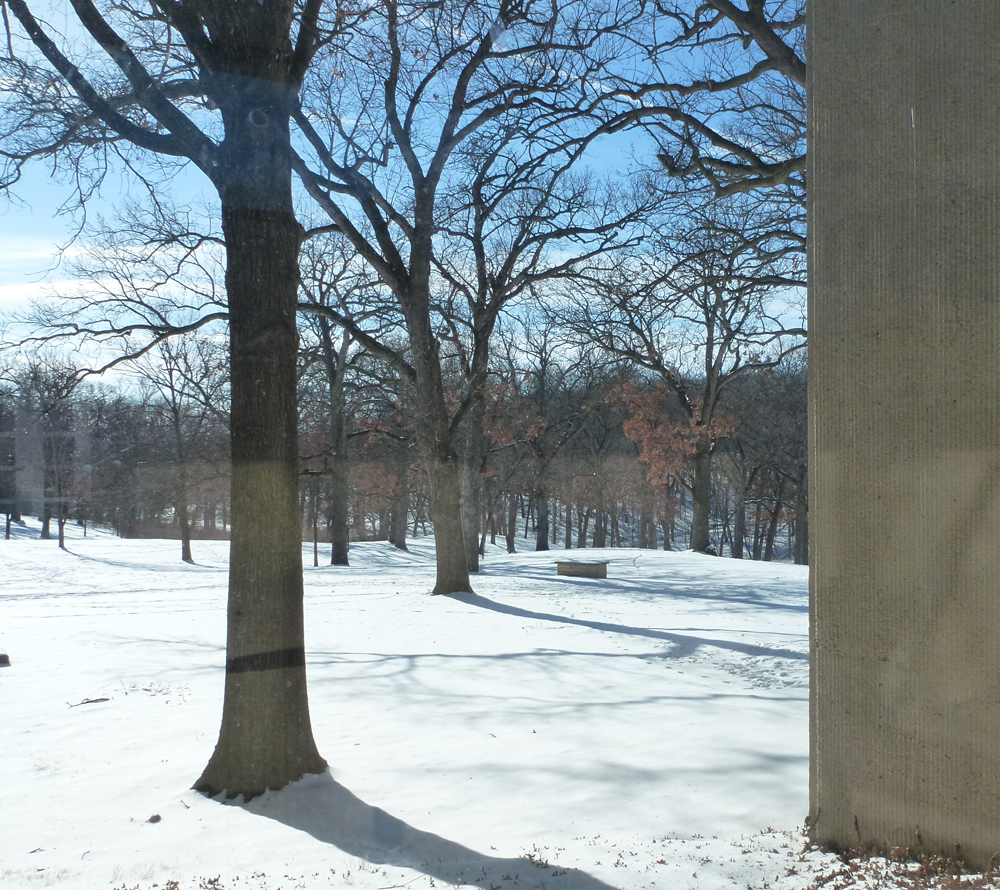 Eatery A
This upscale restaurant is close to the museum. The diverse menu sold me with crispy brussel sprouts and bacon wrapped fig flat bread. The wood fired pizzas were delicious, but the 3pm-6pm happy hour specials made them unforgettable.
Krunkwhich Ramen
Tatertots and ramen in one spot! This short order restaurant makes their own kimchi and perfectly poached eggs. After an easy and fast meal, we grabbed a coffee from the roaster next door. However, the museum is so close that we hardly had time to finish a cup before we arrived.
Fong's Pizza
A pizza place moved into an old Chinese restaurant. There is Egg Roll Pizza, pizza egg rolls, a long beer list, and Kamikaze helmets. We enjoyed expanding our children's idea of pizza with their off beat pizza toppings on a thin crispy crust. Our kids are little, so we avoid restaurants where we have to wait for a table. This small (but big enough) location looks like it could draw a crowd. We went for an early lunch, and had no problem.
Malo
As a Mexican restaurant in an old fire station, Malo is the perfect "art museum reward" for my crew. They have cheese dip, margaritas, and a children's menu! During happy hour on a weeknight, the large restaurant had open tables when we arrived.  It was full when we left and did not seem too loud.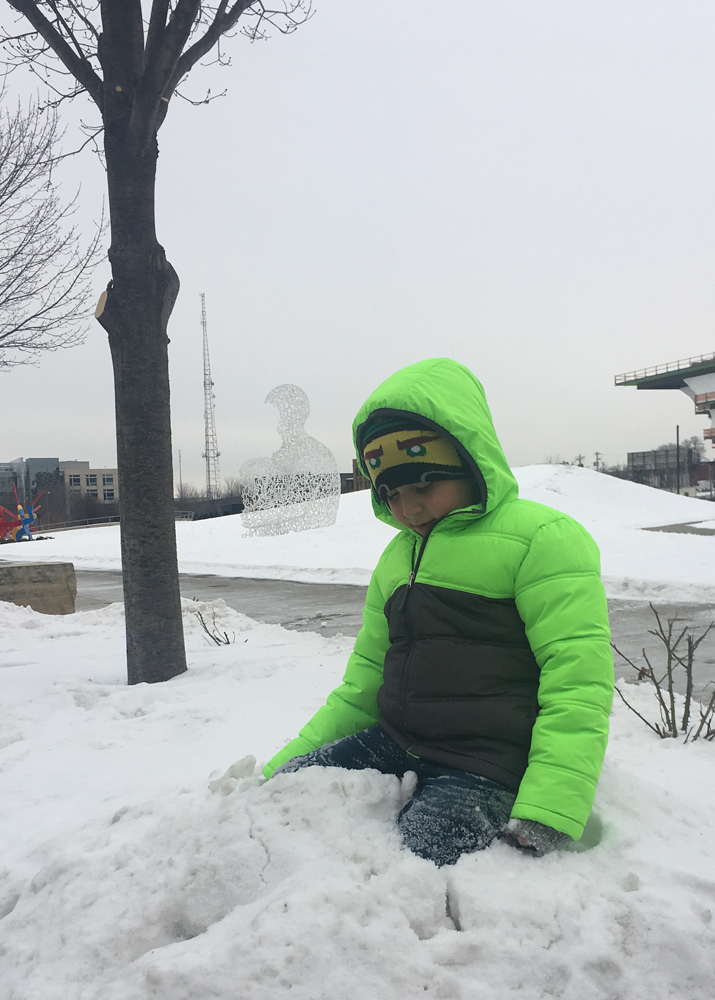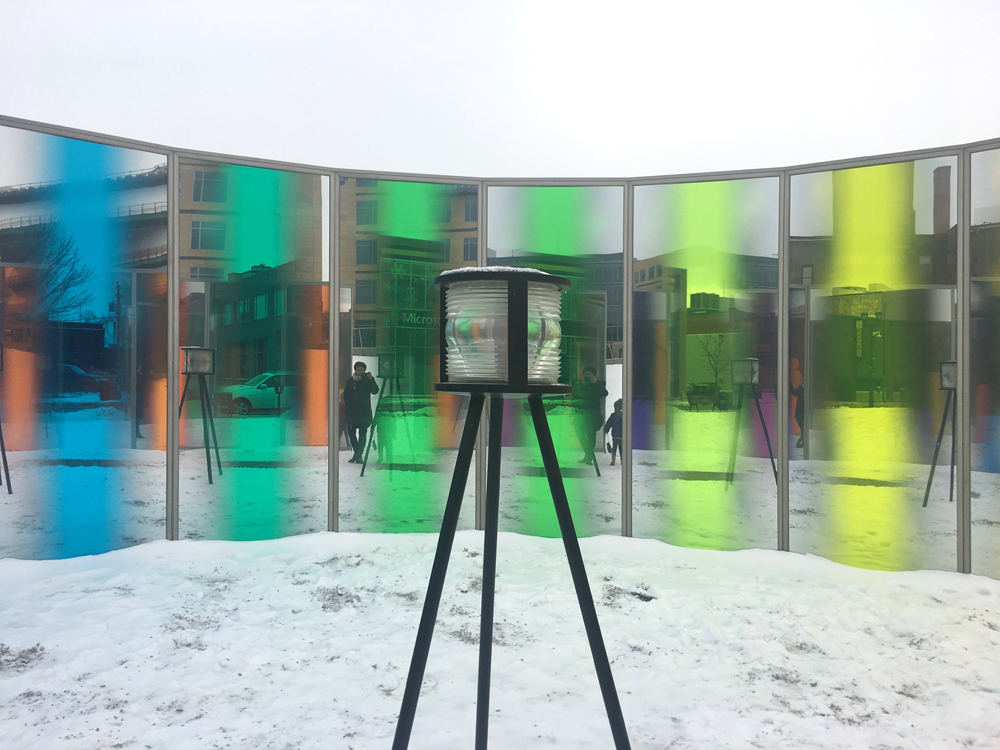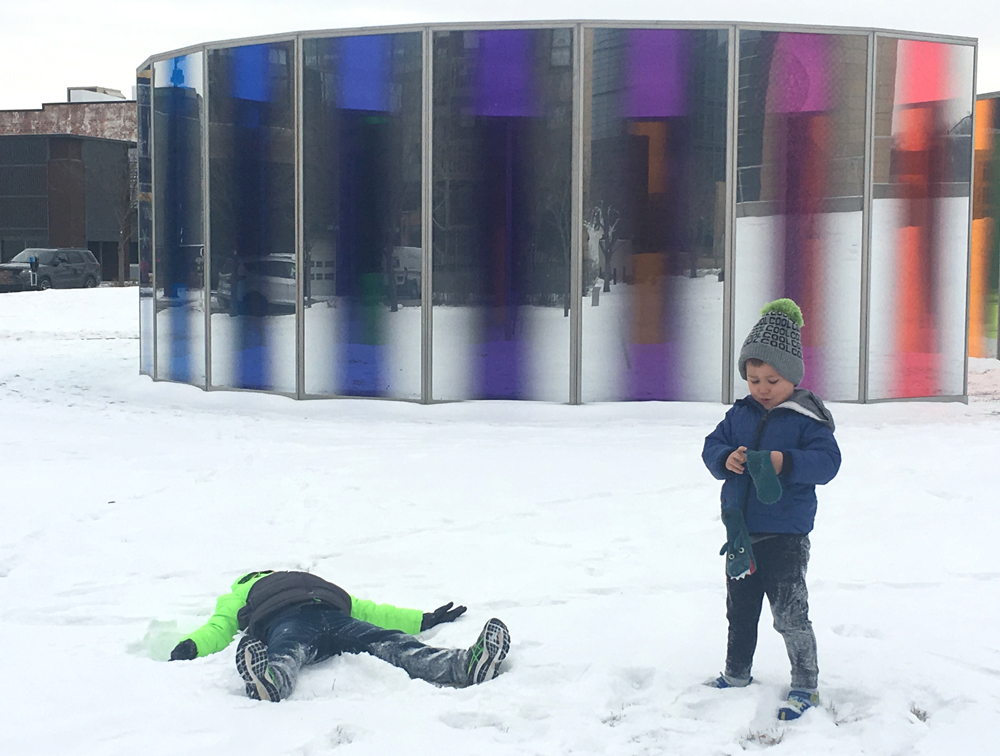 Pappajohn Sculpture Park
We did make a second art stop on our short trip. It was freezing, but the older boys and I ran around this sculpture park like Southerners who never see snow. It is a couple blocks long and seems like a great location to finish off an ice cream cone in the summer. The artworks are noteworthy and large enough to spot from a parked car.  We ran around and through Olafur Eliasson's "Panoramic Awareness Pavilion"  before we froze. When it is warmer, we will slow down and look at it more closely.
Hy-Vee Downtown
We loved this downtown grocery store! When traveling with a baby, it is just nice to know that there is a big, clean, fancy grocery store close by for all the mini food emergencies.