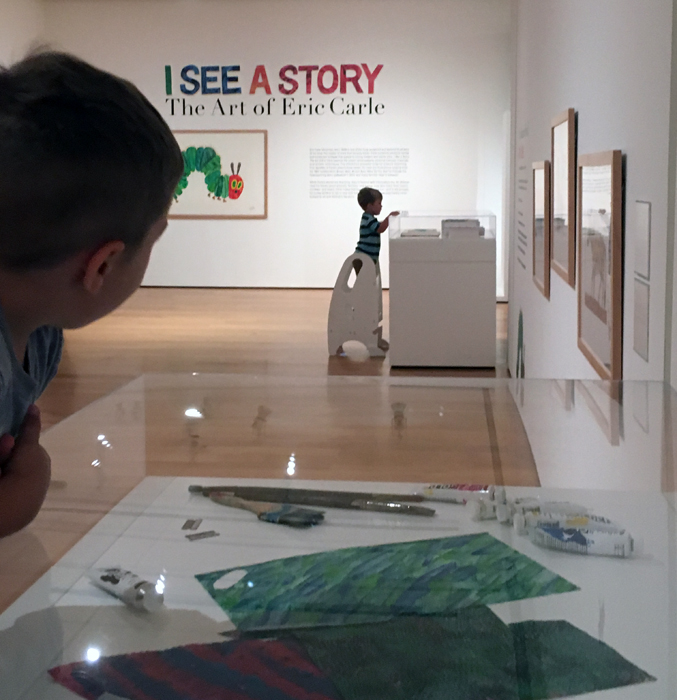 During my trip to Atlanta, I took my littles to the High Museum of Art. A beautiful museum that I would visit for the architecture, courtyard, and atrium alone. In the lower galleries, there is an exhibition of collages by Eric Carle, a prolific illustrator who is best know for writing The Very Hungry Caterpillar. His first book, Brown Bear, Brown Bear, What Do You See?, was published in 1967.
If you or your children are a fan of his books but not in Atlanta, the Eric Carle Museum lists many traveling exhibitions headed to  St. Louis, Korea, Tennessee, and more in the next year. "I See A Story" will be at the High through January 2017.
We made a quick visit to the exhibition because I know so many children and caregivers love Carle's books. For some families, the exhibition adds a new dimension to stories they've read a million times. That wasn't our family. We only spent about 5 minutes walking in the exhibition galleries. Our favorite part of the I See A Story exhibition was all the connections The High made inside the family learning gallery. We spent much more than 5 minutes here.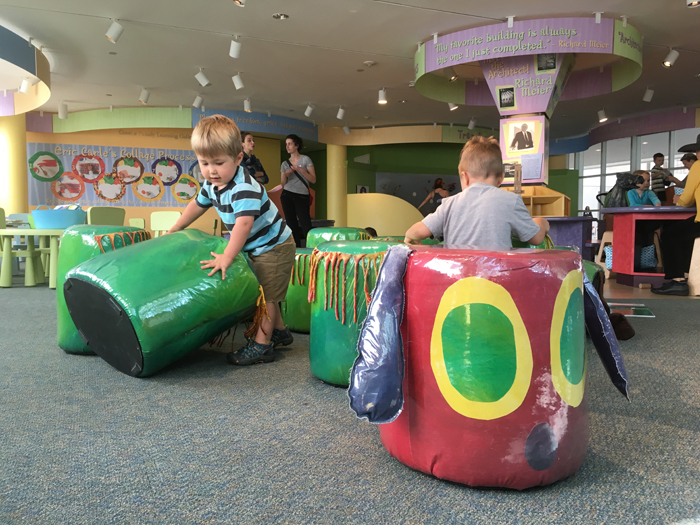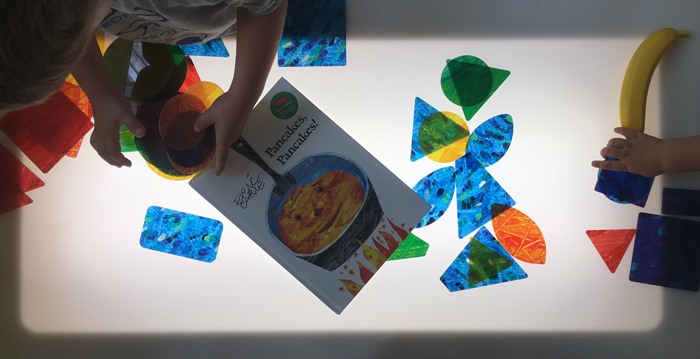 Near the entrance to the High is a separate room geared for kids, which means you can touch everything! There are books, blocks, and toys all over the room. Kids are making things and playing loudly. While my children explored an Eric Carle inspired light table, I picked up his book Pancakes, Pancakes! to read to them. The world premiere for the musical Pancakes, Pancakes! inspired by Eric Carle's book and written by Kenneth Lin opens in Atlanta on May 31st. It's a captivating story about where our food comes from.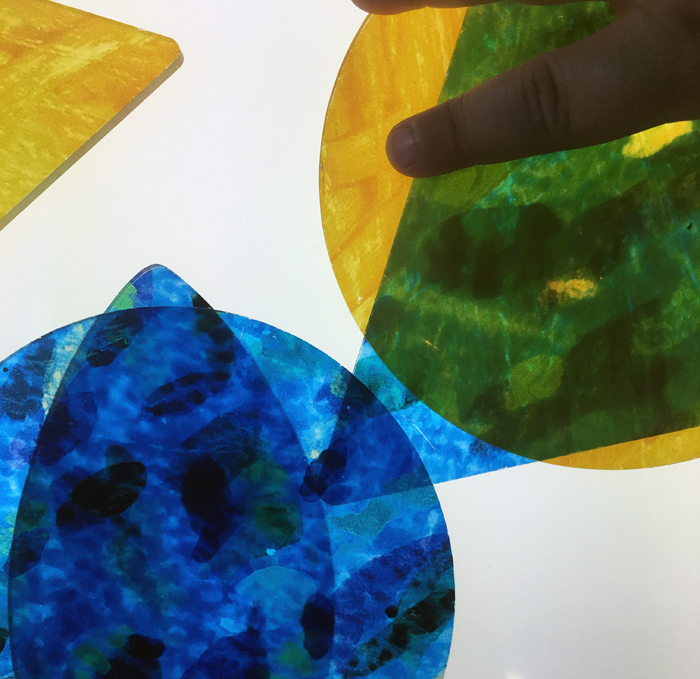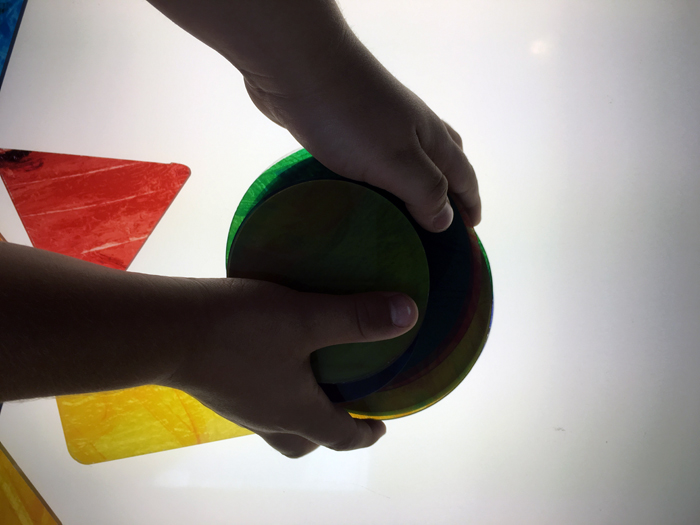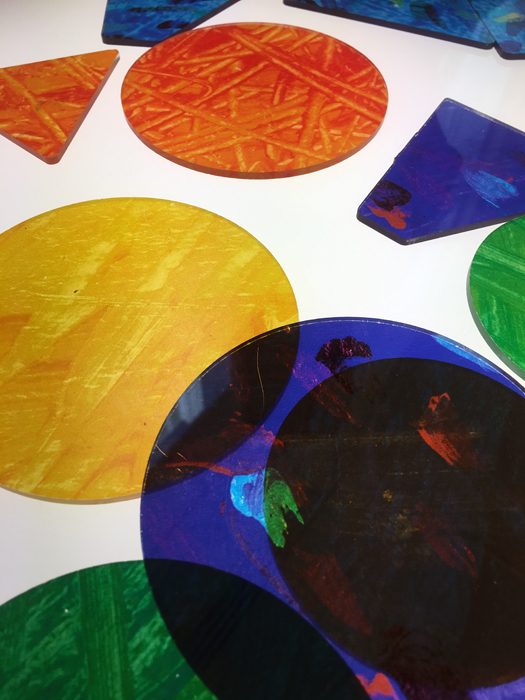 Eric Carle-Inspired Activities
Whether you are going to see the exhibition or musical, books are a great starting point for making things. Here are a few ways to play and make connections to Eric Carle's books at home.
Patty at Deep Space Sparkle has published a 16 page e-book with templates and directions for making art inspired by Eric Carle.  My children enjoy watching videos about a craft, especially if it requires specific steps. This short video on making pretty painted paper is the starting point for some of Patty's Eric Carle projects.
---
Making a stop-motion animation about your favorite Eric Carle book is a great way for older children to engage his artwork. It also enables older siblings, cousins, and friends to be part of something that your preschoolers and babies still love. Melissa from Imagination Soup walks you through how to make a stop motion animation of The Very Hungry Caterpillar.
---
I am on board with the ways Allison from No Time for Flash Cards connects books with activities. I can usually find an activity on her site that seems achievable for our family. Here are a few Eric Carle "read and make" connections from her site:
---
The Eric Carle Museum in Massachusetts keeps a blog full of ideas for making art inspired by his illustrations. There are over five years of posts, including activities they do in their museums to ideas for your home and covering a range of ability levels. Their tags and categories help you narrow it down by age, material, or book. I started with posts for preschoolers.
For more ideas about bringing Eric Carle to life in your home, see my Amazon List of craft supplies, books, and toys. And if you go to see the exhibition, don't miss the museum's scavenger hunt.