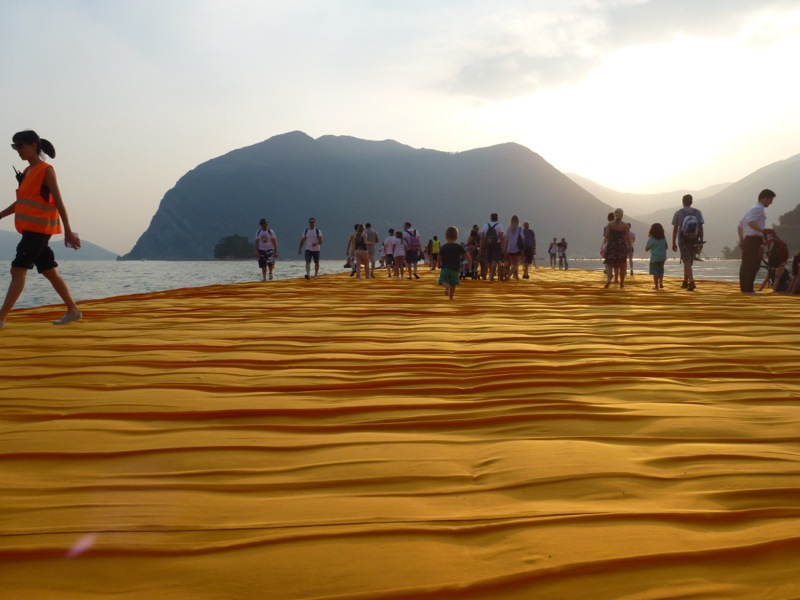 "People come from everywhere to walk to nowhere. Not to shop, not to meet friends – they just walk, to nowhere," commented Christo about the Floating Piers this week. The Floating Piers is Christo's latest art installation. It is coming to close this weekend after being open for two weeks. I introduced the work here, here, & here.
We stayed on the hillside of Lago Iseo for four nights to experience the artwork. And Christo is right, people came from everywhere! And more people came than anyone imagined. The local mayors had planned for 45,000 a day, but early on they were doubling that number easily. As well as turning many people away.
The work was different than I expected, and I still don't know what to make of it. The crowds of people sent everyone's head spinning. Hotel managers, mayors, police, bus drivers, it seemed like everyone knew someone who was stood up, turned away, or evacuated. Housekeepers doubled as shuttle drivers for hotels. Mayors closed roads and even closed the piers. There were four evacuations in the first four days… that's 90,000 people leaving through one bus stop, two slow ferries, and packed train station. Trains were canceled or rerouted because too many people were in Sulzano already that day. The rumors buzzing amongst the locals were a big part of the event.
It was hard to get to the piers, even with transportation reservations. We spent more time trying to get to them than we did on them. It played a huge role in how I experienced walking on water, especially with two little children. Once you made it to the piers, you felt like you had arrived… just to be sucked into the crowded flow of walkers.
Before we landed in Italy, there were photos of the artist and early birds walking serenely on water. They showered news articles across the world and portrayed a peaceful, isolated experience of the water, the sky, and the land. I imagined spending time watching the colors shift, listening to the water, and walking meditatively to nowhere. This is not the case. It was more of a social experience than an environmental one. It's been a few days and I'm still shifting my expectations. I cannot wrap my head around the meaning of hundreds of thousands of people overwhelming an art installation.
After standing in line and missing the ferry the night before, we pleaded with our receptionist to ask her niece if she would take us in her boat on our last night. It was the nicest motorboat ride of my life (so far). My two little boys (& their parents) loved it. It was quiet, private, and the temperatures were not sweltering. We arrived just before sunset and left at dark.  We passed the hundreds of people waiting in line for the ferry and jumped off onto a private pier. This must be how Brad Pitt and Madonna sneaked onto the piers. It was a little strange to be set apart from the masses, but it was the only way we could make it work as a family.
On the first day we arrived in Italy, my oldest impatiently asked, "When do we go see the art?" The next morning at breakfast, he requested the seat where we could see the Floating Piers from the hillside. When we arrived on the piers, he treasured the walking, running, and dancing across the drapes of orange. The first hot day we visited, he cried when we were turned around because children could not go to the farthest point for fear of evacuation. I promised we would go back and walk all the way to the island. And both the littles did. About 2.5 km of walking without complaining or bribing. Mostly they did "running tricks," and I apologized to other visitors for being a human trip hazard. We walked barefoot, laid across the walkway, and had a picnic on what was essentially a public sidewalk. We had fun without doing anything or eating gelato.
The experience was complete for my sons (especially the oldest) when they were able to wave to Christo on his passing barge and shout at the top of their lungs, "Christo!! Bravo!" Christo came by both days we visited. His barge is the largest boat and floats close to the piers. He stands at the top with a video camera pointed on him, but most visitors and some staff did not know who he was. They didn't come because it is Christo. They came to walk on water.
Like everyone else, we came to traverse meaninglessly and go nowhere, but it was different than I expected. I will remember the joyful way my children explored the new sense of walking on water. I will remember the heat and the chaos of the masses. And I will remember the stories spreading through the small town as the world seemed to descend on them. But I'm not sure I will do it again. You have a few more days to try it.
Wednesday Afternoon on the Floating Piers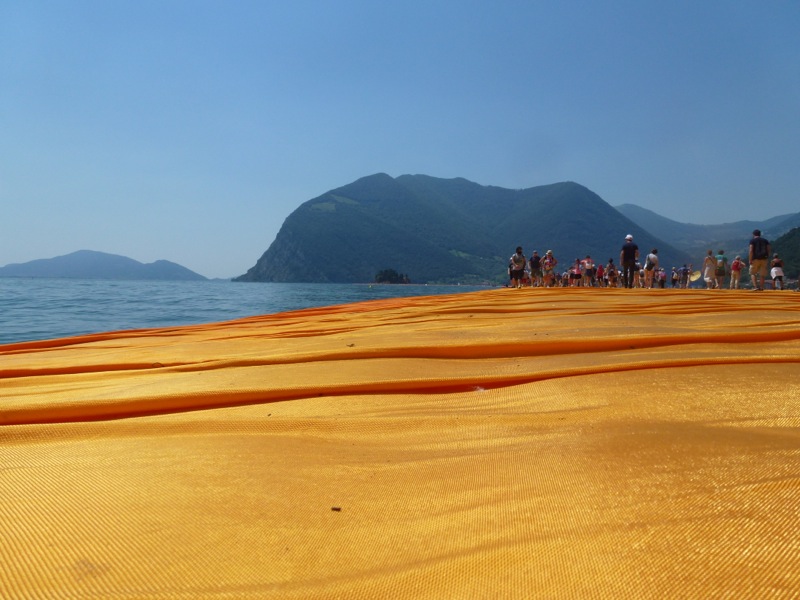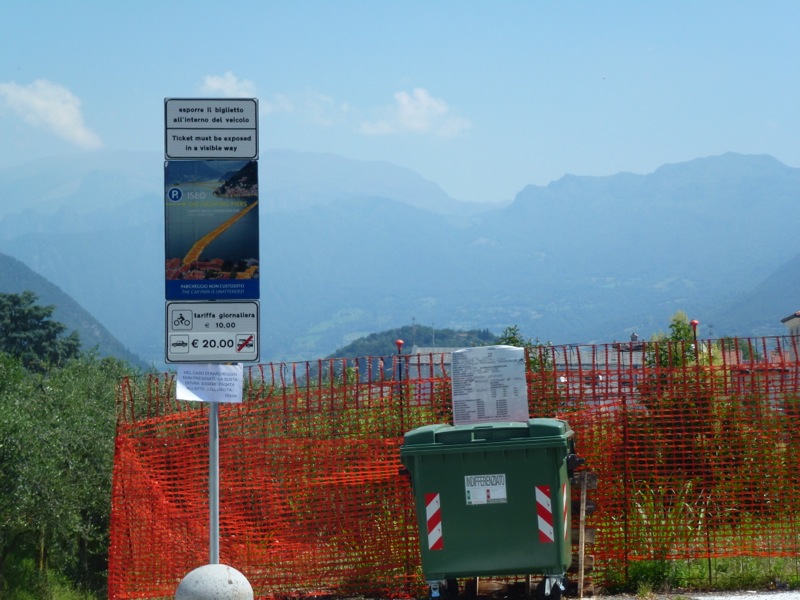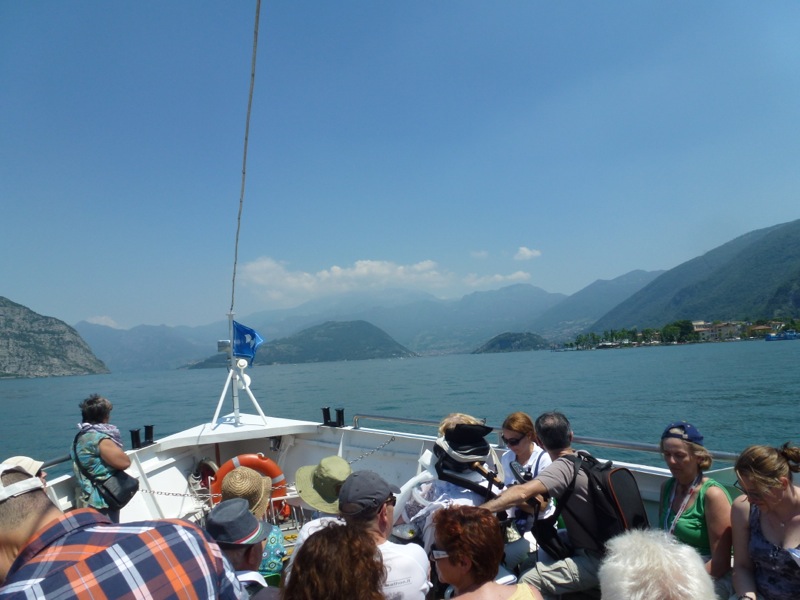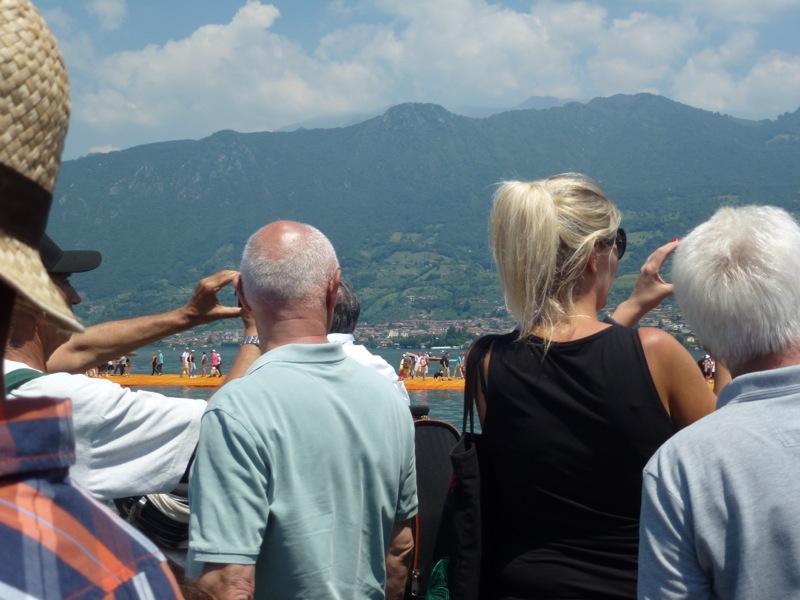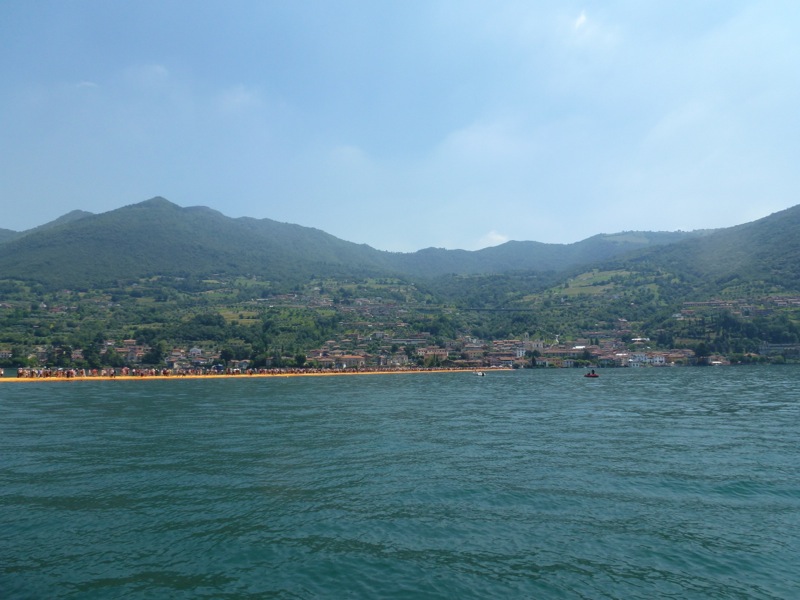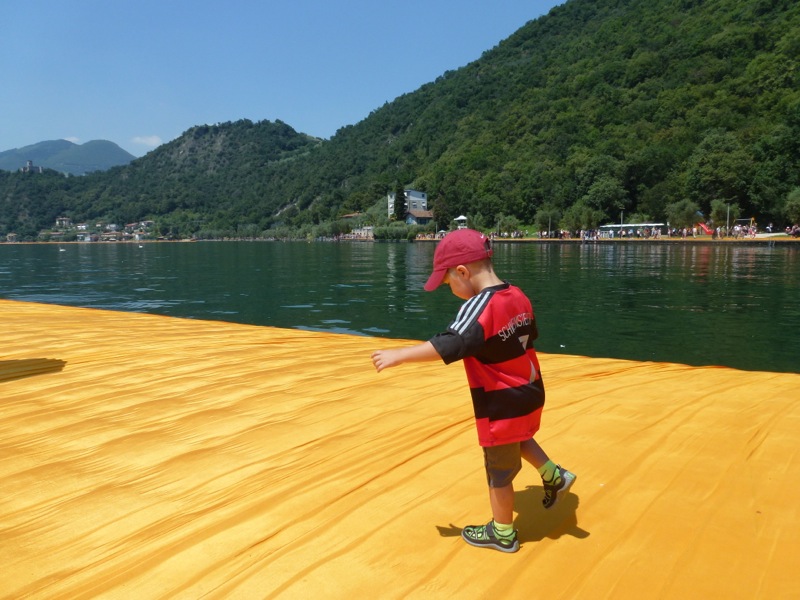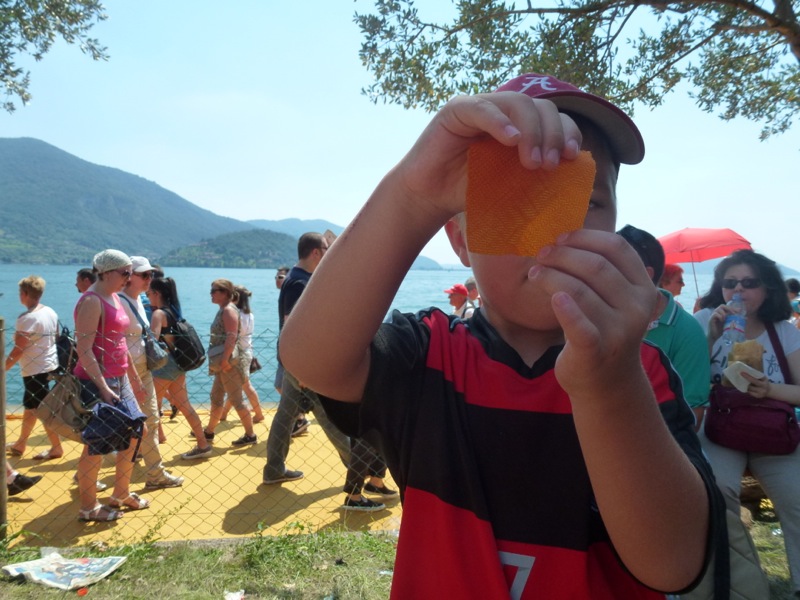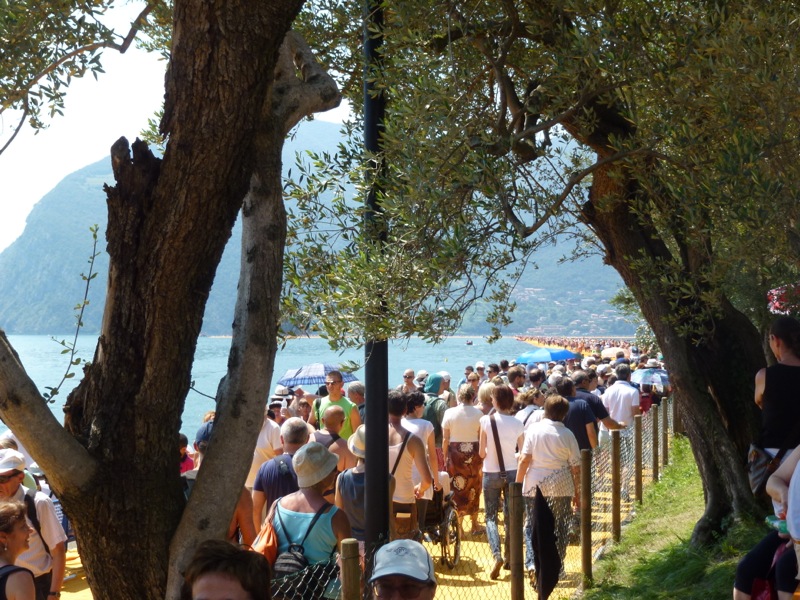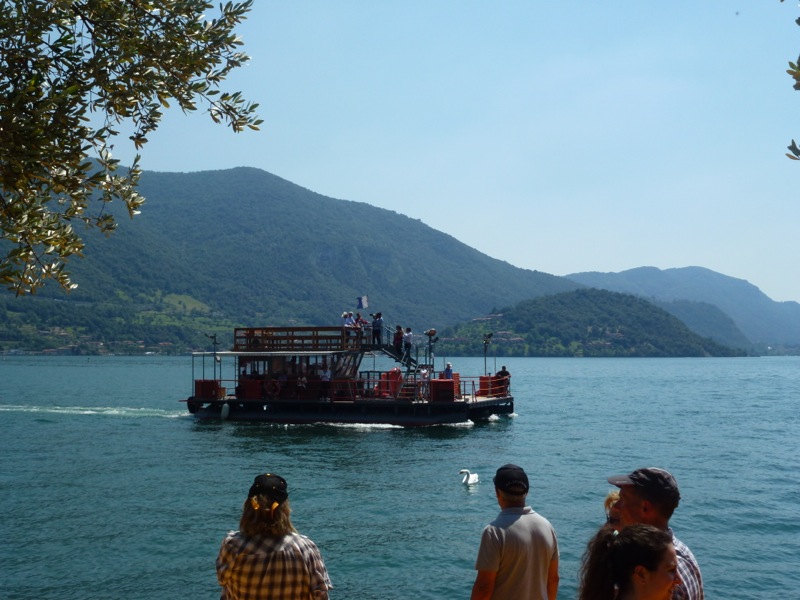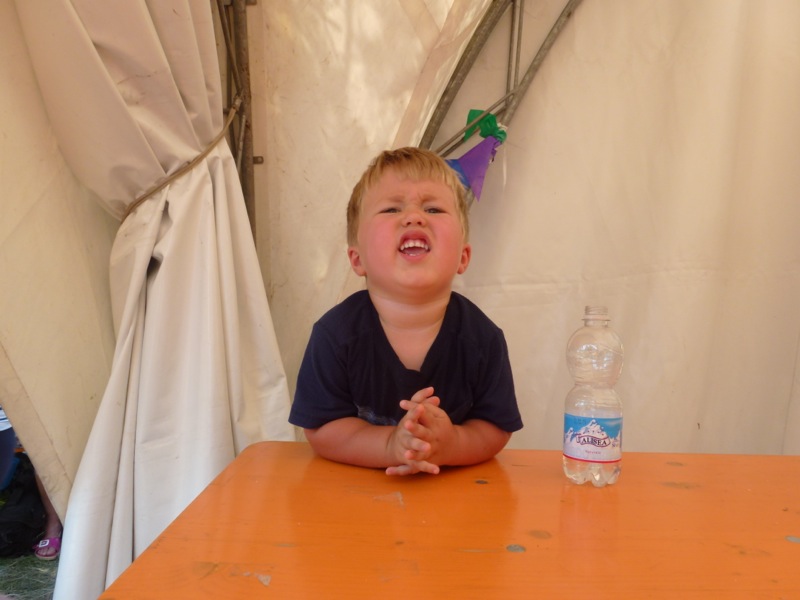 Friday Evening on the Floating Piers