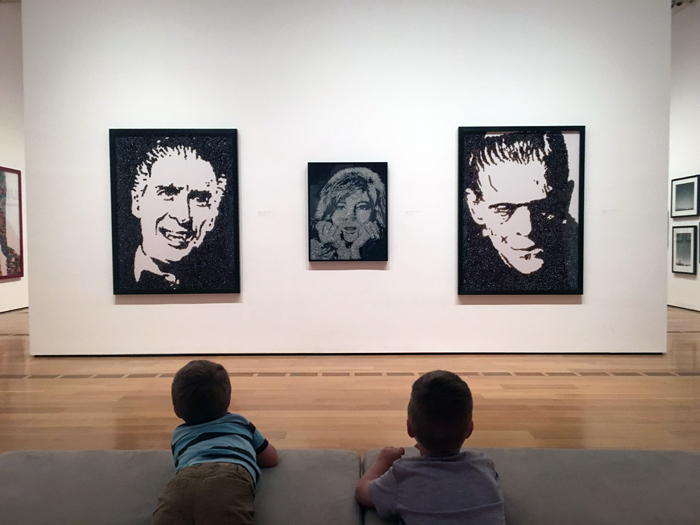 Yesterday, I shared my experience visiting the Vik Muniz retrospective with two preschoolers, including the things we talked about, what they liked best, and how to know when they've seen enough. Vik Muniz is a great photographer to introduce to children, who are captivated by the unusual materials, realistic drawings, and eye spy games. They learn to be confused by scale, see things in more than one way, and imagine new ways to play. The exhibition will be at the High Museum of Art in Atlanta through August 21st. I recommend that you add it to your list of air conditioned summer adventures.
Today, I have printables! I'm trying something new as someone recently pointed out that the conversations and games I play in the gallery with my children are not as obvious to them. Here are some simple activity sheets you can download and take with you to the Vik Muniz exhibition. They are geared for different ages and will give you ideas about how to connect with your children and the artwork when you visit.
Printables:
In yesterday's post, I talked about how much fun we had playing eye spy with Vik's collages. The Search & Find activity sheet is a list of some of our favorite items we found in his photographs. You can use this sheet to let older children search for the items on their own. Download my Search & Find sheet, and print one list for each person. After you remind them not to touch the artwork or run, then let them roam and search for the items. This sheet let's them browse the whole exhibition, get an overview, and discover pictures that draw them in. They don't need to grasp the totality of one artwork before they move on to the next one.
After observing what is in the pictures, you can talk about how Vik Muniz made each photograph. And the materials in this exhibition are so much fun!  My sheet on Tools & Materials is geared for readers and non-readers. Use the sheet to match each material pictured with the drawing Vik made out of that item. Sit down in front of the photograph, and make a small, thumbnail sketch or write a short description about it. My children enjoy being able to work their way through a worksheet and make connections with the exhibition. It's part scavenger hunt and part art history. The second page in this printable .pdf includes some questions that you might want to use to start conversations with your child before, during, and after the exhibition.
Another formal way to look at Vik Muniz's photographs is to analyze the scale. Some of the drawings are so big that you can only see them from an airplane, but the photograph in the museum is small. Some of his drawings are so small that you cannot see them with your naked eye, but the photograph is bigger than you. The first time lapse video in the exhibition made the idea of scale click for my children. Here is a simple Scale worksheet you can download that will allow older children to think about how the scale of drawing changes.
Download any of these three worksheets before you go to see the exhibition. Take pencils (instead of pens) because it can be erased and is safer for the artwork. Many museums have a rule about this. Use the worksheets to look at the artwork in different ways and trigger conversations. You don't have to finish them, see everything, or get the whole picture in one trip.
When you get home from the exhibition, take time to play. Dump out a pile of cotton balls, skittles, or spaghetti sauce and make a few drawings together. I purchased a book about Vik Muniz's artwork to give us the opportunity to touch and remember the photographs. I also recommend watching the movie Wasteland for teenagers and adults. It documents Vik Muniz's process of making "Pictures of Junk." It introduces you to the way Vik Muniz works and why.
If you take these printables to the exhibition, let me know what your children love best! Take a picture and tag me on Instagram, Twitter, or Facebook.