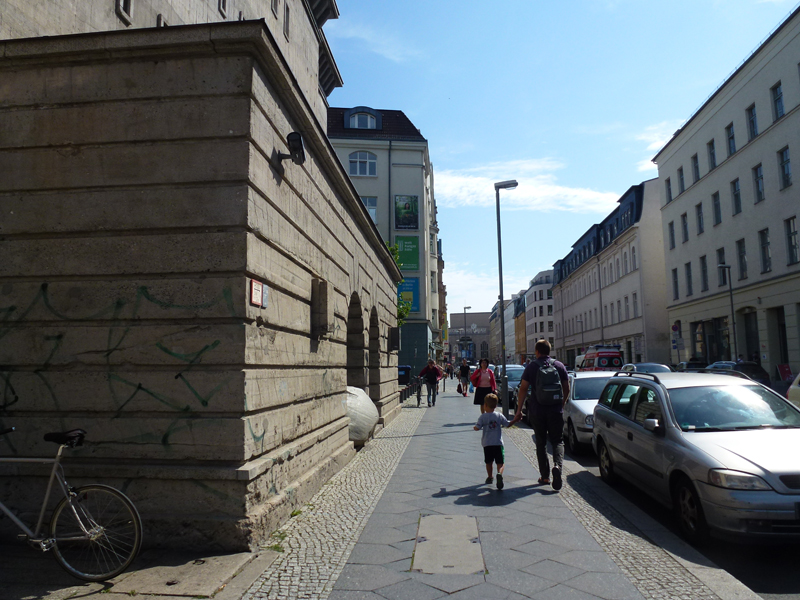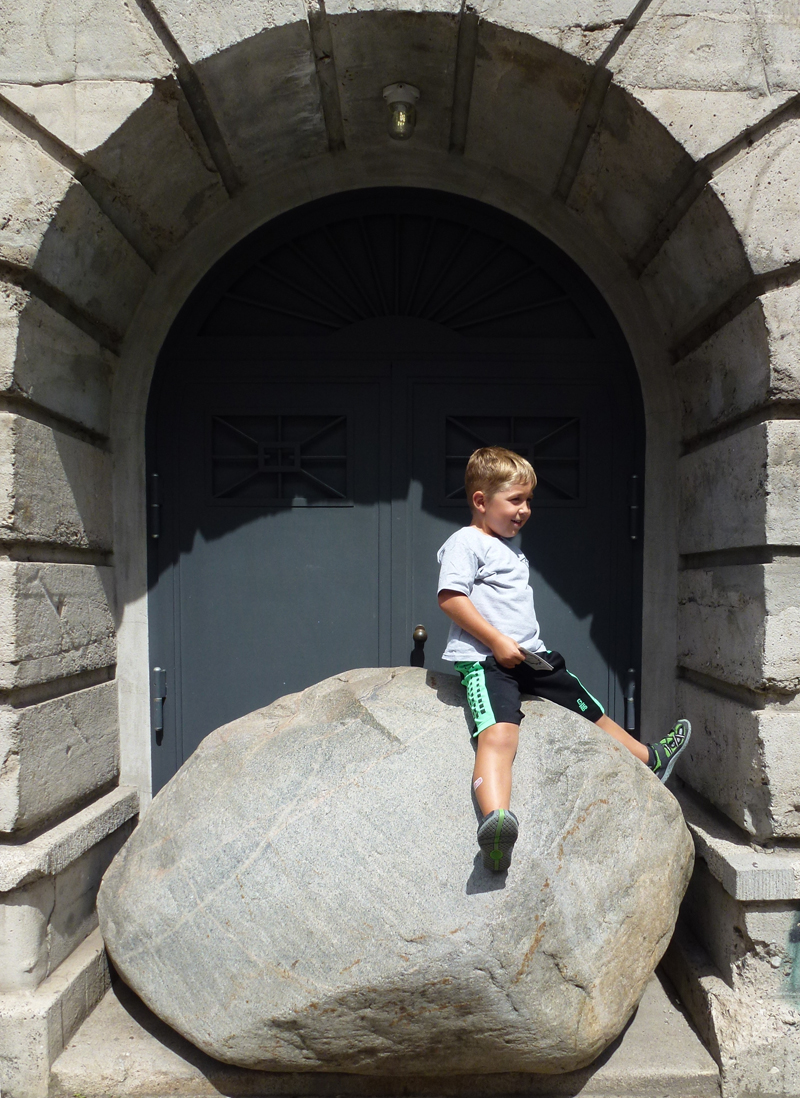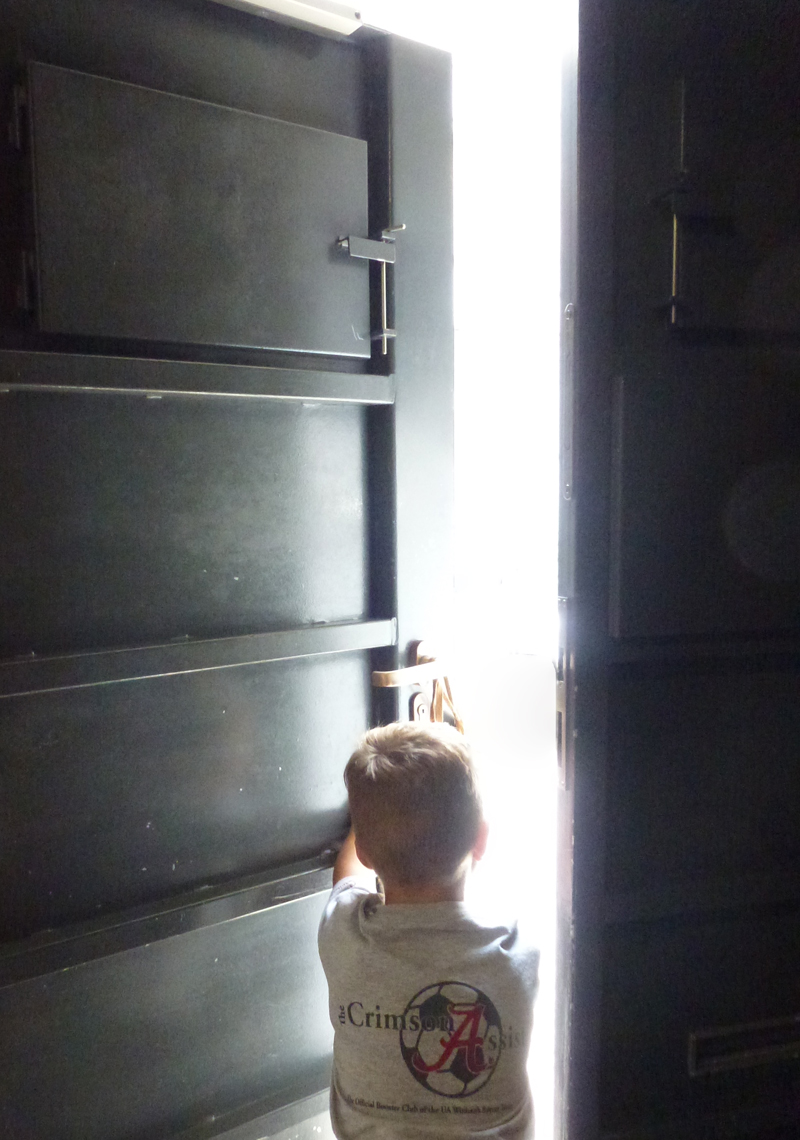 They say the only hills in Berlin are buried Nazi bunkers. Before the Second World War, over 200 bunkers were built to house the entire population of Berlin, 4 million people. Only about twenty bunkers remain, and one of them houses the Boros Art Collection.  Originally built to be an air-raid shelter for nearby train station employees, it was used by the Red Army for prisoners of war. In the 1950s, it was converted into a "banana bunker" for storing imported fruit from Cuba. After German Reunification, it became known as "the hardest club in the world" for it's techno music and fetish parties. Today it is the personal home of Christian and Karen Boros. They live in the penthouse and display their art collection on the lower floors. In an interview, he notes that the collection could be unofficially described in three parts: "his," "hers," and "theirs." Exhibitions from their collection have been on public display since 2008.  He and his wife Karen Boros select artworks from their storage facilities to exhibit for four years in the bunker. The artworks range all media and reflect their personal interests, although most artists have a connection to Berlin. The current exhibition includes Ai Weiwei, Awst & Walther, Dirk Bell, Cosima von Bonin, Marieta Chirulescu, Thea Djordjadze, Olafur Eliasson, Alicja Kwade, Klara Lidén, Florian Meisenberg, Roman Ondák, Stephen G. Rhodes, Thomas Ruff, Michael Sailstorfer, Tomás Saraceno, Thomas Scheibitz, Wolfgang Tillmans, Rirkrit Tiravanija, Danh Vo, Cerith Wyn Evans and Thomas Zipp.
Our children joined us and a small tour of five other adults to check it out. The tour guide graciously adapted his presentation for those who were less familiar with contemporary art and was patient with my children's excitement, questions, and attention span. Their minds were seriously blown by a few of the artworks.
For example, we were still talking about Michael Sailstorfer's popcorn when I put my children to bed that night. Mainly, they just kept saying, "I can still smell the popcorn,"  which permeates a few floors of the building. A popcorn cart has been filling the room with popcorn for four years. My children's eyes exploded when they walked in the small room. The hills of popcorn was like a scene from their dreams. Then they try to comprehend that some of that popcorn is older than them! Six of Sailstorfer's artworks are included in the 2012-2016 exhibition, including a tire that is constantly spinning against the wall making a small pile of rubber on the floor and a once living tree that is always turning, scraping the floor, and leaving debris in a ciricle. The sculptures are picturing time, a concept that is difficult for preschoolers to conceptualize. (That's why I find myself yelling "hurry up" so much.)  But they can feel it's effects in these artworks (as do adults). Sailstorfer employs every day objects that the children relate to, but with actions that are outside of their "everyday" box. They learn to question time, but they don't seem to feel the fruitlessness that adults feel in these artworks. They define productivity differently. What adults see as repetitive and useless actually sparks their imagination.
Nearing the top floor," Latent Measures" by Awst & Walther's got my children running from room to room. A long aluminum pole pierces the concrete walls and rooms to connect viewers on either side. They are more likely to believe that walls and concrete are stable, permanent structures, thus this artist collective just made the impossible happen. Looking through the pole, you see someone who might as well be living on Mars or talking to Jesus. Their belief made me pay closer attention to my own experience inside the aluminum pole. And as soon as they saw the another pole suspended in air, they disappeared to search for the endings.
In a following room, they listened to the tour guide talk about Awst & Walther's golden arrow that was thought to have been shot through a hole in the bunker, piercing the perfectly, white wall.  My four year old couldn't help but blurt out "Who shot back?" Everyone laughed when he asked with such earnest, but he really wanted an answer. I was casually observing the humor and form, but I wasn't taking it nearly as seriously as my child. And when he's older, I will tell him this was his first successful form of art criticism.
While you wait for the tour, you get a sneak peak of Tomás Saraceno's geometric string and bubble installation from the lobby. And that's the artwork my children decided was their favorite. As we walked out, my four year old asked for Boros Collection cards to share with all his friends at school. He treasured his large handful, but was pretty disappointed when I said school didn't start for another month. We still have a few left, if any of our local friends want one.