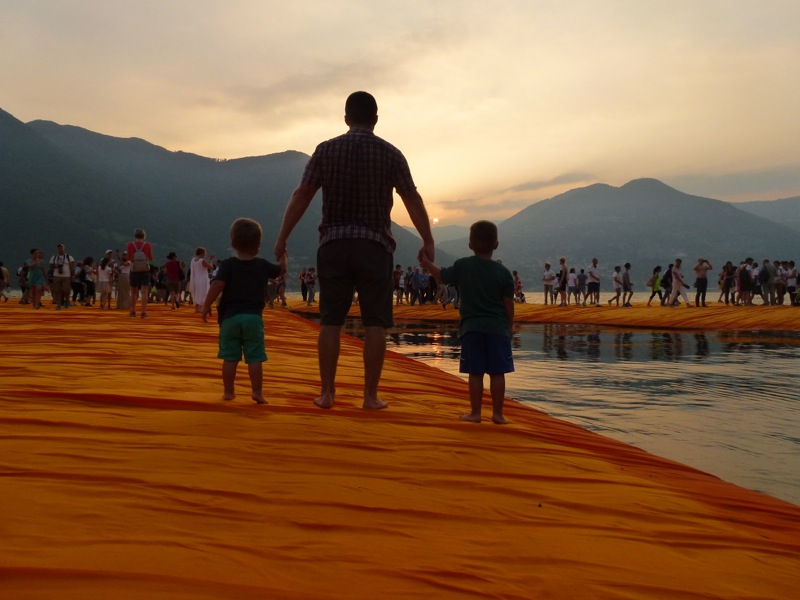 In June, we visited Christo's most recent art installation on Lago Iseo in northern Italy. I posted pictures and thoughts about our expierence here. The catalogue, "Christo and Jeanne-Claude: The Floating Piers," was published in late August and arrived in our mailbox minutes later. Each page is full of crisp, stunning photographs and succinct captions. The book congruously pictures the logistics, imagination, and construction involved in making this artwork.
It starts with Christo and Jeanne-Claude's unrealized plans for similar works from 1969 in Argentina, 1995 in Berlin, and 1996 in Tokyo. It mentions how they traveled by car from Basel to Stuttgart searching for sites. Then continues with the planning of the project, including photographs of presentations to gallerists, Mayors, and community members. Paintings and drawings from his studio evolve over the course of the photo essay. Design and construction of the floatation devices, marigold cloth, and underwater anchors. Details about special piers, the barge, and scuba divers that worked night and day to make it happen are especially interesting to my boys. After walking on water and feeling the energy of thousands of people suspended in the sunlight, the story of how Christo created enriches our memory of it. I am only missing the story of how it was disassembled. Not only because it is a unique part of Christo's artwork, but also because my children cannot comprehend that it will not be there when they return.
The Floating Piers catalogue is the perfect momento. The children read the pictures curiously and ask lots of questions, like "What is he doing?" and "Why?" For others, the book answers questions about what an artist does all day and the process of producing public art. All with beautiful photographs by Wolfgang Volz, collages by Christo, and a few diagrams by engineers. Photographs and sketches of the Floating Piers are also included in this set of 16 ready-to-frame prints of past artworks.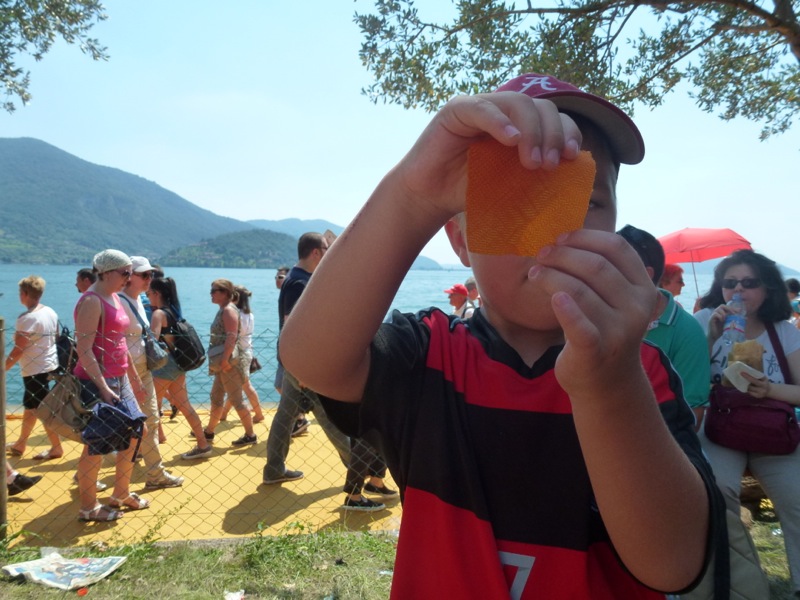 Recent posts on Christo and Jeanne-Claude: