The Aldrich Contemporary Art Museum is tucked away in a small town in Connecticut.  It was founded over 50 years ago by an influential art collector, Larry Aldrich. Even though this museum is located outside of a major cultural hub, it consistently exhibits ambitious contemporary art. Thus the historic building, quintessential main street, and quiet location are a great excuse to get out of the big city for a day. The current exhibition, "Site-Lines," is up until February, so you have plenty of time to plan your winter escape.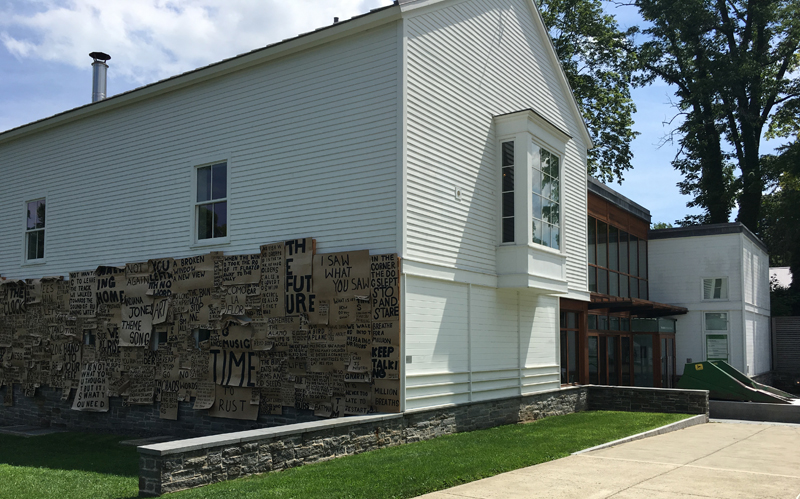 After ten years of following the museum's programming, I finally made my first stop to the property! The curators are currently showing four solo shows that are all inspired by the history, place, or culture of the museum's location. It's loosely inspired by Robert Smithson's "Gravel Mirrors"that include gravel from the Aldrich's site. We saw this artwork at Dia: Beacon. My children would want to know that the exhibitions include tractor parts (a lot of them), rats, stamps, and a swing. Caregivers should know that this museum had some of the most impressive guides for children that I have seen in a museum. That's why I asked Michelle Friedman, Manager of Education Programs and Youth Initiatives, to share more about what they are doing at this museum that works. See our interview below: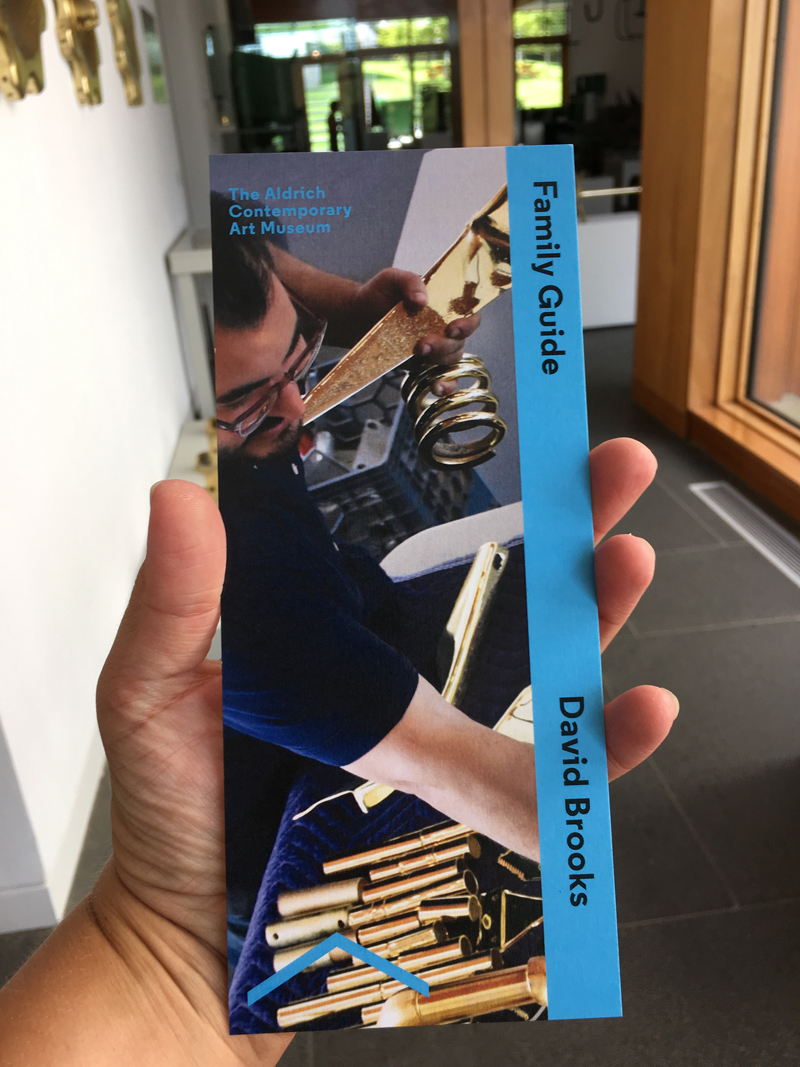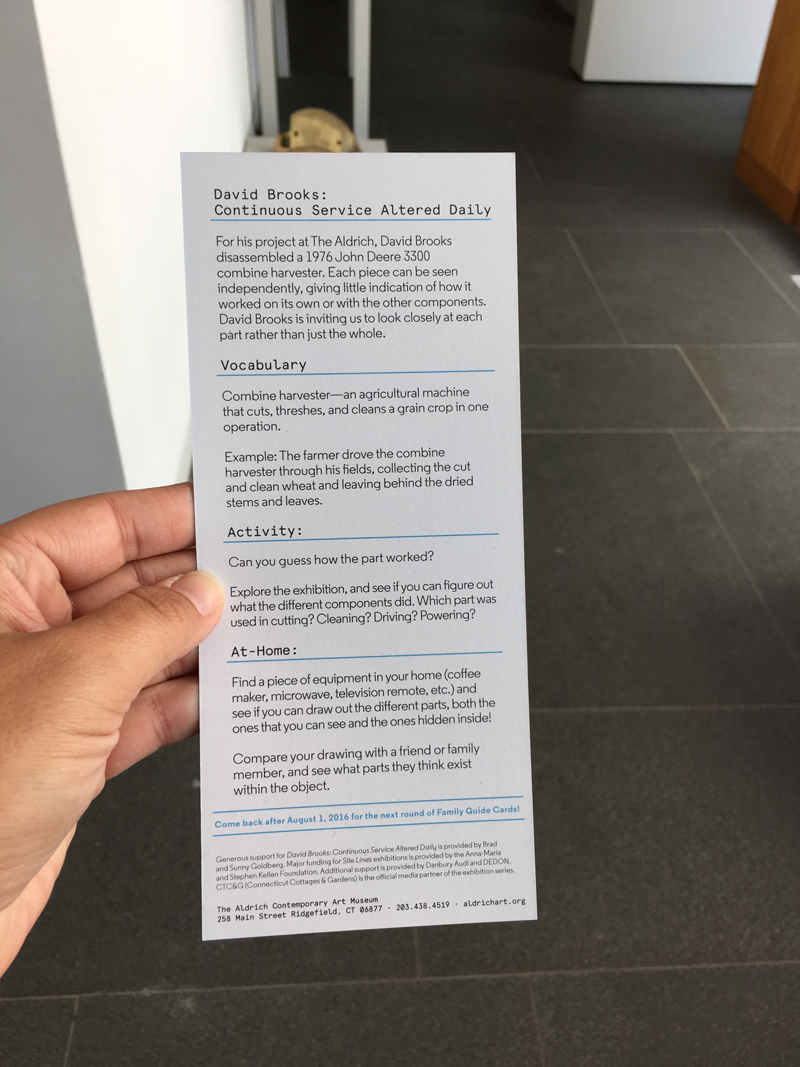 Michelle Friedman: Thank you for this opportunity Karen. It is my pleasure to share the work around families, children, and gallery experiences that I have been a part of during my time at The Aldrich. As Manager of Education Programs and Youth Initiatives in the Public Programs and Education Department, my role is to help create ways in which the public, specifically families and children, can experience, explore, and enjoy contemporary art.
Karen Brummund: When you visit an exhibition, your family guides are placed right next to the exhibition brochures on the wall as you enter. This makes it easy for caregivers to pick up and communicates that children and novices are welcome here. Can you share with us how being a welcome place for families has evolved over time at the Aldrich?
MF: The Aldrich's approach to providing context and opportunities for engagement for all visitors evolved through a close partnership between the Museum's Public Programs and Education, External Affairs, and Exhibitions departments. Our goal with programs and interpretative tools is to create an approachable, welcoming and innovative environment for visitors of all ages and backgrounds. We wanted to invite participation in the galleries themselves, with opportunities to discuss, think, look, and investigate with the works of art, in addition to public programs, workshops, and activities in our Education Center. With these key concepts in mind, we created a series of tools with which to discover new ideas, prompt dialogues, and bring access to the curators and artists into every visitor's hands.
KB: I also noticed that the family guides mention that there will be a new one for each exhibition in October (partially through the exhibition). This is amazing and encourages caregivers to visit more often with children. Is this the routine at the Aldrich? How do the education resources change throughout the exhibition?
MF: We strive to provide context and content that is relevant and engaging. Our goal is to invite visitors to come back again and again to experience the exhibition in different ways, constantly discovering something new. When changing the content, we look at other lenses through which the viewer can explore the artwork, ranging from the artist's' ideas, processes, or media to visitor feedback to unexpected information about the exhibition itself. With the family guides specifically, we focus on process, materials, techniques, and concepts that adults and children can explore together in the galleries, in our Education Center, and at home.
KB: Your family guides and online resources for educators not only emphasize teaching about art, but also the power of art to teach critical and creative thinking in the language arts, sciences, and math. Can you talk about the way the Aldrich is teaching young people to incorporate art into their own living and working? In other words, why does art matter to the development of many aspects of our life not just to making beauty or being imaginative?
MF: The Aldrich believes that art is a vehicle through which learners of all ages can explore all disciplines and fields. Being in a gallery, making art, and having an open dialogue helps develop critical and creative thinking skills, problem solving, collaboration, conversation skills, and so much more. It encourages the investigation of one's own ideas, the ideas of others, and an understanding of the similarities and differences between the two. These skills are crucial for all areas of life, as they are about the way we think, experience, learn, and interact. For our young visitors, discovering contemporary art through discussion, hands-on art-making, storytelling, and in-gallery activities gives them the opportunity to explore and learn about all disciplines in a creative and open way.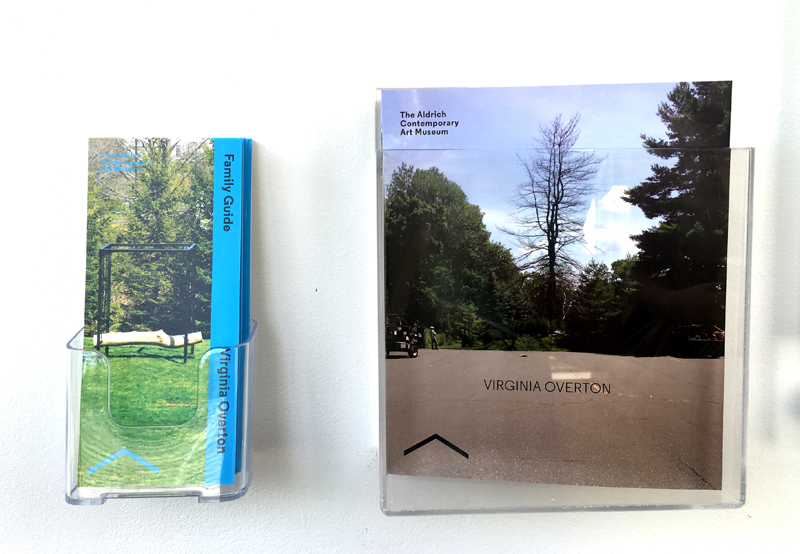 KB: I often tell people that my children expect more out of art than I do. From your observations and through so many of the education programs, can you describe characteristics of the way children experience art? Are there things you have learned about looking at art from young people that adults often bypass?  
MF: I have learned so much from my young students throughout my tenure at the Museum.  Their creativity and openness continues to encourage me to look closely, think big, and to always dig deeper.
Children experience art in such an all-encompassing way. They engross themselves in the physicality of the work, the color, the texture, the shape, the size, while asking how, what, and why. Their desire not only to learn more but to express themselves and create in the process is so inspirational.
The habits of mind of a child so closely mirror those of artists, with their keen sense of wonder, innate creativity, and incredible imaginations. Children are constantly observing the world around them, and looking for ways to understand and share their experiences. They are make connections between all parts of their lives and question the world around them, just as contemporary artists are responding to the context of their lives.
KB: Lastly, as a parent, art is the best way I know to teach my children to grapple with their inner lives or understand complicated ideas like failure, risk, empathy, or newness. We love art for many reasons, but this is why it becomes critical to my role in developing little people. From your experience, can you talk briefly about how the current four solo exhibitions in Site Lines create experiences for children and caregivers to sense or learn things that you just don't see a lot of in other parts of life?
MF: Site Lines is the perfect example of an exhibition that inspires children to be imaginative, think big, and learn. The artists featured in Site Lines are putting forth innovative ideas, from deconstructing a 1976 John Deere combine harvester and displaying each piece in relation to an ecosystem service, to combining personal history and experiences with found-object sculptures, to engaging directly with a community to create their works of art. While doing so, they are opening themselves up to failure by proposing projects on a scale like they've never experienced before, all in the public eye and open for interpretation by the viewer. These exhibitions invite multiple perspectives and conversations, inspire creativity, and exemplify exactly why art is so crucial to learning. In this exhibition and in contemporary art generally, you see examples of how art unapologetically pushes boundaries in ways we can not expect, how artists follow their passions and ideas regardless of risk, and how they invite the public to not only experience their ideas, but to immerse themselves in them and bring their own interpretations. This is how we want our children to think and be, to go big, to chase their dreams, and to be present in the world around them.