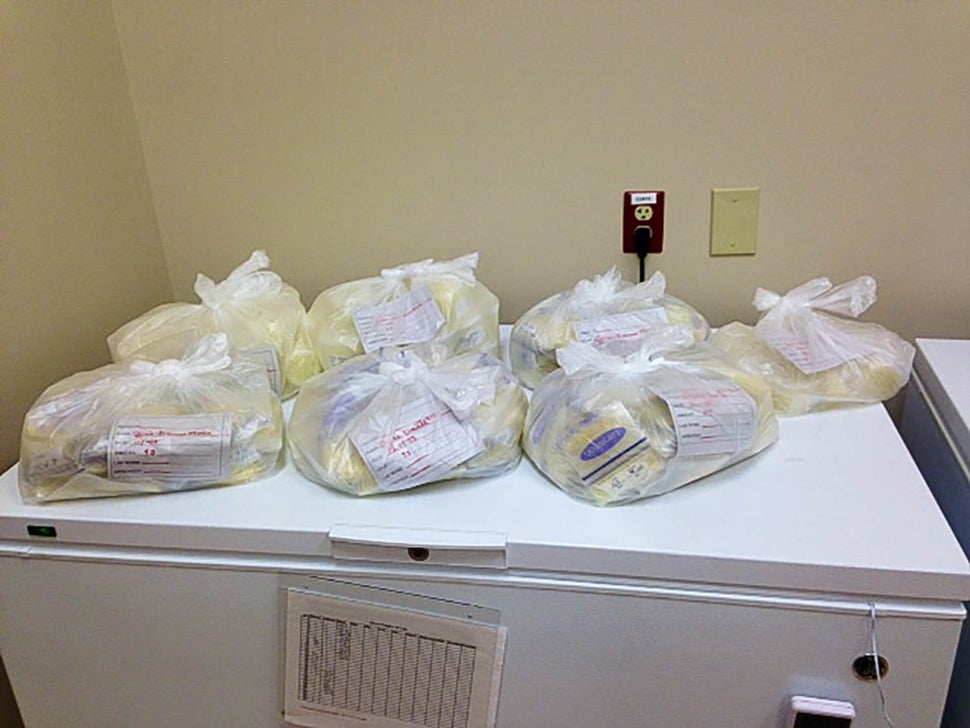 The Jewett Art Gallery at Wellesley College in Massachusetts is currently exhibiting the work of Anna Ogier-Bloomer and Katie Doyle through April 1st. The show, "An Intimate Portrait of Motherhood," is curated by Candice Ivy and examines the physical connections between mother and child. Both photographers reflect on the nature of breastfeeding with personal and social implications. And if you are interested in an inspiring art history of breastfeeding, then I recommend you start with the Instagrammer @breastfeedingart. In the feed, I found old and new artworks from all over the globe reflecting on how we juggle, survive, and grow.
Below, Anna answered a few of my questions about art and life…
How many children do you care for or parent?
One; my daughter Violet is two and a half years old. 
How long have you been a caregiver to them?
Since her birth in 2013–well, technically I became pregnant in December 2012, so that's when caregiving really started. 
How has being a caregiver or parent changed your perception of work?
I'm not sure if by "work" you mean ARTwork or the general concept of work. I have a full-time job at an independent arts college, in addition to my studio practice, so the word "work" means several different things to me. I "go to work" but I also "make work."
Becoming a parent changed everything about my life — not one single component of my life or my outlook on it remained the same. In particular, the way I felt about work shifted dramatically almost immediately upon bringing home my new baby. Nothing in the world mattered, or matters, to me nearly as much as her well-being. I would give up anything and everything for her, including my job and my studio practice.
That's a perspective I never imagined having before becoming a mother. Right up until the moment I had her I was certain I'd want to go back to work and have my own space and distance from the role of Mother. In fact, my identity as Mother now plays a central and critical role in my life, and I've taken on parenting-related issues in several areas of my life, including advocating for caregivers' rights and greater parental leave at my place of work, breastfeeding advocacy and engagement with artist-parent groups. 
What is one thing you hope your child receives by growing up with art?
My husband and I are both visual artists and both making work that confronts social issues, so I am thankful that our daughter will be exposed to progressive thought and concern for social justice not just through our own values but through the lens of visual artmaking. 
Do you and your child have a favorite playground or leisure activity?
Our daughter loves to read, so we love reading together. She might also read to us, making up her own story to go with the pictures. I also derive so much joy from just watching her curled up in her bed reading through a big stack of books by herself. 
Are you and your child making anything together? If so, what?
We work together on arts and crafts projects like watercolor painting, but she takes ownership of those; I just assist. So far my art practice has remained independent, even though she is a subject. The photographs are works that I make myself, but I do have some ideas for more collaborative images in the future. 
Do you share your studio with your child? If so, what do they do in it?
My studio is all my own, a place I have all to myself. It's actually the only place and time I haveI to be alone with my thoughts and my practice. It's the only time I don't have to utter a word to anyone, and I like that. I need that sliver of quiet, focused time. 
What are you reading now?
I just finished Mother Reader, edited by Moyra Davey. This collections of essays by artists and writers about issues of motherhood (and of not-motherhood) is inspiring and motivating, and I strongly recommend it to any new mothers, as well as any women struggling with the decision not to have children. There are some wonderful essays about reconciling what can often be a difficult and complex internal (and external) dialogue about this very personal choice. I was simultaneously reading Ann Patchett's novel The Patron Saint of Liars, which is such a compelling and beautiful story. It was my first Patchett read, and I'd been trying to read something of hers since I saw her interview Sally Mann in New York last year. She's a great writer an equally compelling speaker. These days I need to surround myself with women writing about issues of motherhood!
What is your favorite children's book?
How to decide?! There are far too many. A few we're enjoying right now are The Snowy Day, by Ezra Jack Keats, and A is for Activist, by Innosanto Nagara. 
What's the last art exhibition/event that you visited?
The last art thing I went to was the PULSE art fair happening in New York City this weekend; my husband and some of my students are exhibiting in the fair. There's great work in the fair this year, as always. Since I don't make it to most ongoing exhibitions in NYC, the art fairs are a great way to get caught up and catch a glimpse of what's happening in the art world right now, albeit pretty much just the New York- and Euro-centric art world.